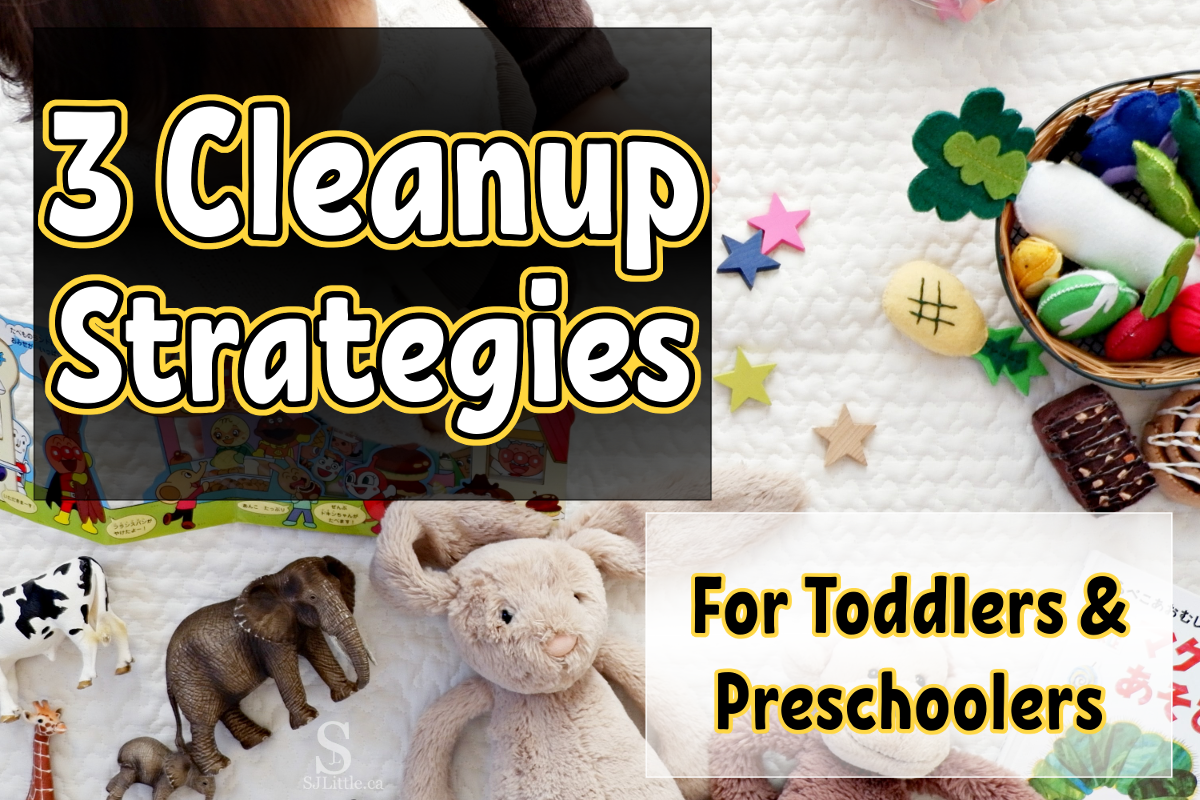 Do you have young children? Have you ever struggled to get them to help clean up? If so, you are certainly not alone. First off, children must learn the skill of cleaning up as most of us are not born with it. Secondly, it can be challenging to motivate a child to clean up, especially when they want to keep playing.
To help you out, I've collected three cleanup strategies for toddlers and preschoolers as well as a handy list of tips.
3 Cleanup Strategies
1. Sing a Cleanup Song
Using a cleanup song can be a great strategy for helping young children know it is time to switch gears from playing to cleaning up. There are many different cleanup songs you can find online. Feel free to spend some time searching for one you like.

Here is a classic cleanup song you may already be familiar with. As far as I can tell, this song originally came from the Barney TV show. The words are simple and you can sing it as many times as needed.

Clean up, clean up, everybody everywhere,

Clean up, clean up, everybody do your share.
2. "Who Can Clean Up the Fastest?" Game
Some children are competitive. This can be used to your advantage. Try making cleanup time a competition. The competition could be:
Between two children: "Sam, you clean this side of the room, and, Jane, you clean that side and let's see who can get their side cleaned up first."

Between a child and yourself: "Let's see if you can clean up the cars before I finish cleaning up the paints."

Between a child and a timer: "I'm going to start the five minute timer. See if you can clean up this whole room before it goes off."

Between the child and themselves (for older children): "Last time you cleaned up all the blocks in 1.45 minutes. Let's see if you can do it faster this time."

Here is a visual five minute clean up timer you could try using:
3. Find and Clean Game – I Spy
Here's another cleanup game you could try. This game may be especially effective for those last few toys that still have not been picked up.

Invite your child to join you and tell them you have a challenge for them. Be direct and specific. "Tommy, I spy a blue car that needs to go in the white bin. Can you find it?" "Mary, I spy a purple doll dress hiding under the cupboard. See if you can figure out where it belongs."

Praise each child when they find the item you named and have put it in the correct place.

For more advanced children, consider naming multiple items. "George, I spy seven triangle blocks that need putting away. Can you find them all?"
Tips for using Cleanup Strategies
Follow through

With all the tips I am about to share, it is important that you follow through. If you don't do what you say you will do, your child may be tricked the first time or two, but it won't take long for them to stop taking you seriously and soon it will be nearly impossible to get them to help clean up. They will ignore what you say, since past experience tells them that you don't mean what you say, and they'll keep right on playing.

Give a warning

Give your child a heads up at least two minutes before it is time to clean up. You could even set a two minute timer and explain that when the timer beeps, that means it is time to clean up the toys.

Explain what's next

One of the biggest

hesitations

of children, when it comes to cleanup time, is not wanting to clean up because playing with toys is fun, and they don't know if the next thing will be fun. Therefore, explain to your child what they will be doing next. When you give the two minute warning, it is a good time to briefly mention what's next. "Two more minutes to play and then it's snack time."

You don't have to be super specific.

If the next thing is something they don't like. Try mentioning the next two things they will be doing. "Next we will go for a diaper change, and then we can play outside."

Give plenty of time

Young children are not very fast at cleaning up, especially when it is a new skill they are just beginning to learn. If you want your child to be involved in helping clean up, be sure to give you and your child enough time to get everything cleaned up without being frantic and rushed.

Afraid you will be done cleaning up too early?

Find a few engaging books or learn some fun and simple preschool songs to sing with your child while you wait. Here are a few of my songs that are great for helping smooth over those waiting transition times.

Be specific (which areas of the room need cleaning)

Remember that your child is still learning how to clean up. It will take time and teaching for them to learn which things go where. Therefore, be patient. Take the time to explain how you want things put away. You may have to explain several times.

Lead by example

Young children learn best by watching your example. Do you want your child to be cleaning up? Then get down on their level and help them do the cleaning. (As an added bonus, cleanup time goes a lot faster when there is an adult helping!)
Well, there you have it. Three cleanup strategies for you and your toddlers or preschoolers. I hope these are helpful as you go about your day. Don't forget to smile and enjoy the time you get with your youngsters. Cleaning up is more fun when you're smiling.
Looking for more classroom management tips? Check out the following links: