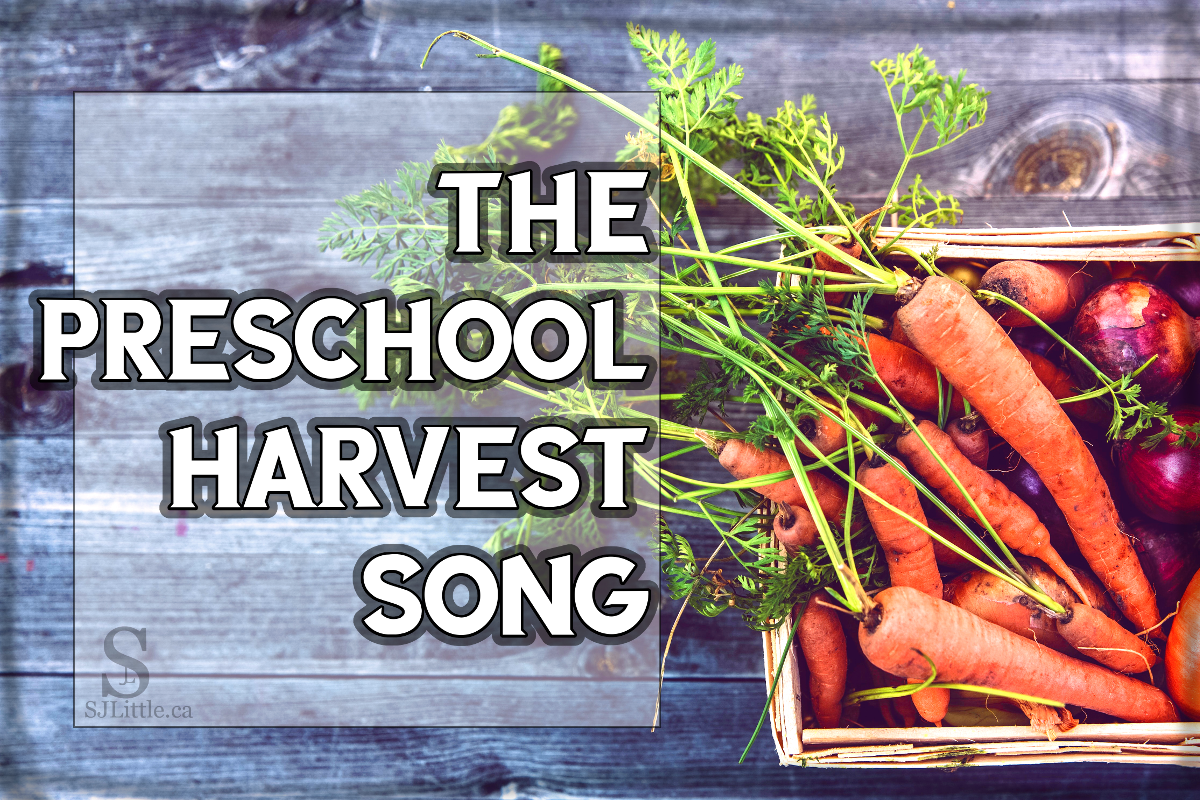 Ah, autumn. The time when leaves turn beautiful fall shades, children return to school, and gardens must be harvested before frost hits. It's also the perfect time to talk about harvest with your preschoolers.
Using harvest as your preschool theme is excellent for discussing concepts such as healthy eating and for learning to categorize fruits and veggies. Not to mention all the discussion about colours and shapes that can be had.
Whether you're using "harvest" as your fun theme or not, here's a fantastic new song to sing with your children. I've been asked to sing it over and over again, and I suspect that you will be too.
Tips for singing the Preschool Harvest Song
Take a moment to explain what the word "harvest" means, as most children will be unfamiliar with it. I like to say that harvest is when farmers go to pick all the yummy food they grew so that people can eat it.

Invite your children to participate by choosing which food to sing about next. I've created a list of optional verses for you to choose from, but feel free to come up with more of your own. Depending on the attention span of your children, I recommend only singing 3 to 5 verses each time you sing the song.

Try adding visuals, whether you bring real examples of the food, make pictures of them, or cut pictures of them out of flyers. Visuals help young children understand and follow the song, especially if they are still learning English.
As this is an original song, please be sure to include my name as the songwriter any time you share this song.
Preschool Harvest Song
Song by: S. J. Little
Tune: Are You Sleeping
We are growing, we are growing,
Long orange carrots, long orange carrots.
Now we'll harvest them to eat, now we'll harvest them to eat.
Yummy, yummy, good! Yummy, yummy good!
Actions:
We are growing – pat field around you in several places
Long orange carrots – move fingers along outside of long carrot shape
Now we'll harvest them to eat – start with arms wide then bring in towards self as though gathering armload
Yummy, yummy, good! – pretend to eat
Optional Verses:
Bright red tomatoes

Lots of potatoes

Juicy red apples

Tall yellow corn

Rich green spinach
What food items did you sing about with your children?
Looking for more original and engaging preschool songs? Check out the Flamingo Song and the Taxi Song both by S. J. Little.