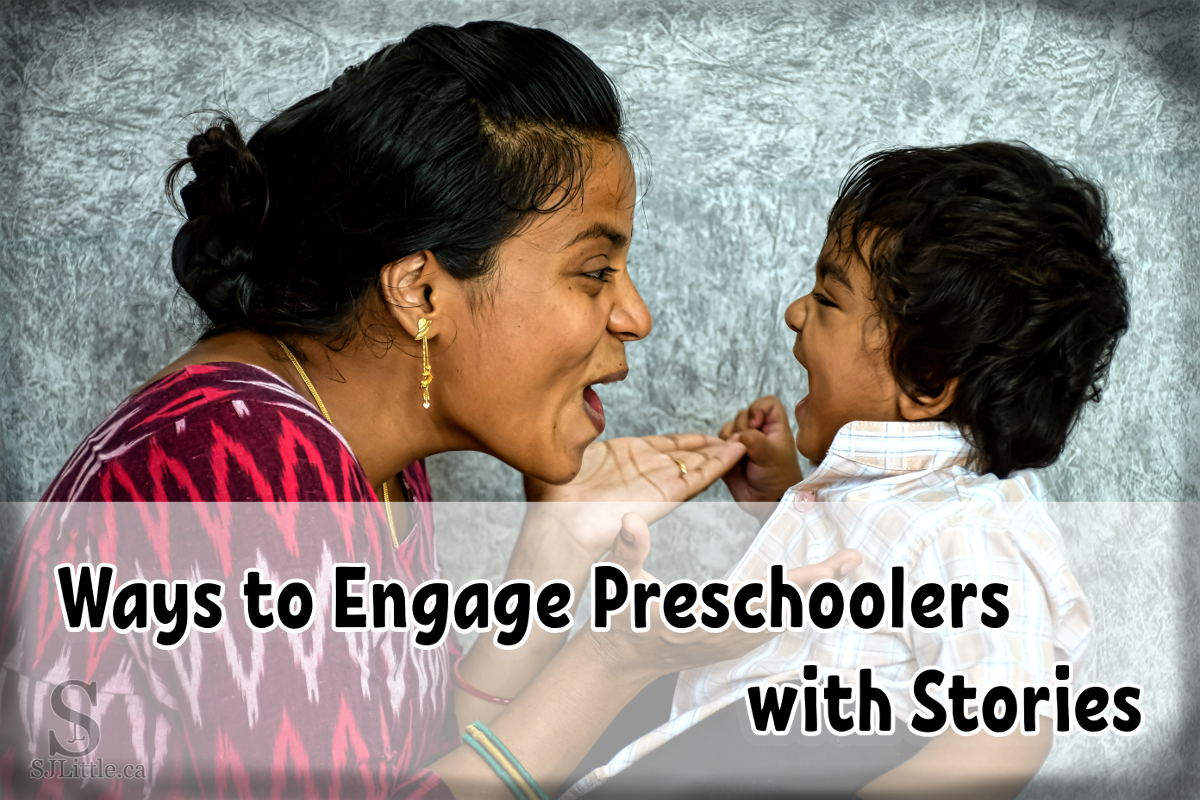 Some children get excited for storytime. Other children are restless and simply cannot be bothered to pay attention at storytime. Some adults enjoy reading picture books to their children. Others do not. Regardless, engaging children through story is valuable for pre-reading development.
I hope this helps you on your journey of engaging preschoolers with stories.
Why engage preschoolers with stories without reading a book?
As a preschool teacher, here are some key reasons I would tell a story without using a physical book:
Children who have a limited grasp of English, whether due to speech delays or English being a second language, find it hard to follow long strings of words. Many picture books have a lot of words with only a few storyline clues in the pictures. Several of the methods recommended below show the action of the story rather than just telling about it.

Some children have a hard time sitting still in general. Using new and unusual ways to tell a story catches their attention far better. Later, as they learn to follow and enjoy stories, they may be more able and willing to sit for a picture book.

Sometimes the child has already heard the story you are telling many times before. They get bored and fidgety because they know exactly what's coming. This is an important indicator for the storyteller that it is time to find a different story or a new storytelling method to help capture the attention of the audience.
Methods of storytelling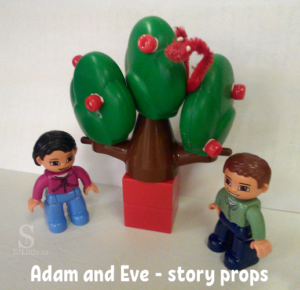 The possibilities are endless, but here are a few ideas to get you started. Keep in mind, you don't have to make up your own story. Find an engaging preschool book you enjoy and retell the story using one of these methods.
Toys as props

Lego/Duplo – If you have time beforehand, you can build whatever building or vehicle the story requires. Better yet, ask the children to help you build it, then set it aside until storytime.

Small dolls or animals (stuffed or plastic, etc.) – I recommend using small dolls or animals, especially ones that can bend as needed for the story (some dolls can't sit down).

Playdough

Some stories might lend themselves well to playdough. It would likely be best to pre-build all the props you will need, or at least practice building them so that you can make them quickly without losing the children's interest. Think ahead about how you will make sure all the children can see what you're doing.

Act it out

Stand up, put on a hat and play the parts yourself. Only some stories will work well this way, especially for preschoolers. Alternatively, allow the children to be actors. However, here again, I caution you to be intentional to keep things fair.

Felt board

Felt boards or flannel boards might seem old fashioned, but the children love them. You can buy felt board sets to use that correlate with specific stories or buy generic sets of farm animals or community workers. Also, consider cutting your own shapes out of felt or paper with velcro on the back.

Puppets

Puppets can be store-bought or homemade. Children thoroughly enjoy puppets with or without a puppet theatre to hide behind. If you don't want to make the puppet talk, have them whisper in your ear and then repeat what they "told" you, such as:

"What's that, Mr. Rabbit?" "Oh, you're looking for your carrot?" "Mr. Rabbit says he wants us to help him find his carrot."

Cut out paper shapes

Use colouring sheets as templates or find pre-made sets you can print and cut. There are many resources available online, some free, many not. (Note: I am not associated with either of the two links below in any way.)

Picture book pages

When it comes to preschoolers, you don't have to change things much to make it seem brand new and exciting. Do you have a picture book with a spine that is falling apart? Consider cutting all the pages out and laminating them. Then you can hold up the pages, one at a time, while you tell the story. I encourage you to number the pages for your own reference. Laminating the pages will help them last far longer.
Tips
Know the story

Whether you make up your own story or retell a story from your favourite picture book, the most important key to storytelling is to know the story well. If the story is written down, read it over several times and practice paraphrasing it. If you need to, write cue cards to jog your memory of the order of events. If it is a repetitive story such as Brown Bear, Brown Bear by Eric Carle, try writing out the first few stanzas to help you get started.

Know your audience

If the story you want to tell is too complex, or otherwise not age-appropriate, you will lose your audience. It isn't so much a matter of whether the child is a five year old or a two year old. Rather, pay attention to where they are at developmentally. When you tell a story, watch for cues that they are not following a too complicated story or that they are bored since the story is too simple. This, of course, gets tricky when you have more than one child and a range of developmental levels.

Make eye contact

Once you've learned the story inside out, you won't have to be looking at the words on the page. This frees you to make eye contact with the children as you are telling the story. Eye contact makes storytelling more personal and engaging.

Consider the setup

Think about how you can hold whatever props you might be using so that all the children can see them. For larger groups, you may need to sit on a chair while the children sit on the carpet. Or if the children are in chairs, you may need to stand. A child who can't see the props will find it much harder to be engaged.

Involve the children

Find ways to involve the children in the story. Some of the methods in the following bullet points work well to enhance the reading of a picture book rather than telling the story without using the picture book.

Let them fill in blanks: A key way to do this is by letting the children say parts of the story based on clues you provide. For example, when I'm reading Brown Bear, Brown Bear, I might say "Brown bear, brown bear what do you see? I see a…" then wait for a child to tell me what picture/prop I'm showing.
Include actions: Some stories lend themselves well to actions. Kitten's First Full Moon, by Kevin Henkes, is a good one for this. You can encourage the children to wiggle their noses or pretend to climb a tree with the character.

Ask questions: Pause the story from time to time to ask a question. The question could be in line with the story: "Do you think he will do it?" "How did that make her feel?" Or the question might be a side comment that enhances general knowledge: "What colour is her shirt?" "How many buttons does he have?" Be careful to watch for signs of your audience's engagement with this one. Too many questions, or miss-timed questions, can break the flow of the storyline.

Hold props: Most children love being allowed to hold the props, but I caution you on this one. Be very careful about fairness. For small groups of children, or one on one storytimes, allowing the child to hold the props, or find whichever prop you need next, can be excellent. However, if you have a large group of children, but only two props, it may cause arguing over who gets to hold it. On another note, once you've let the children hold the props for one story, they may beg to hold them for all future stories. Therefore, consider carefully whether this powerful engagement tool will be beneficial in your setting.
What are other ways you've engaged preschoolers with stories?