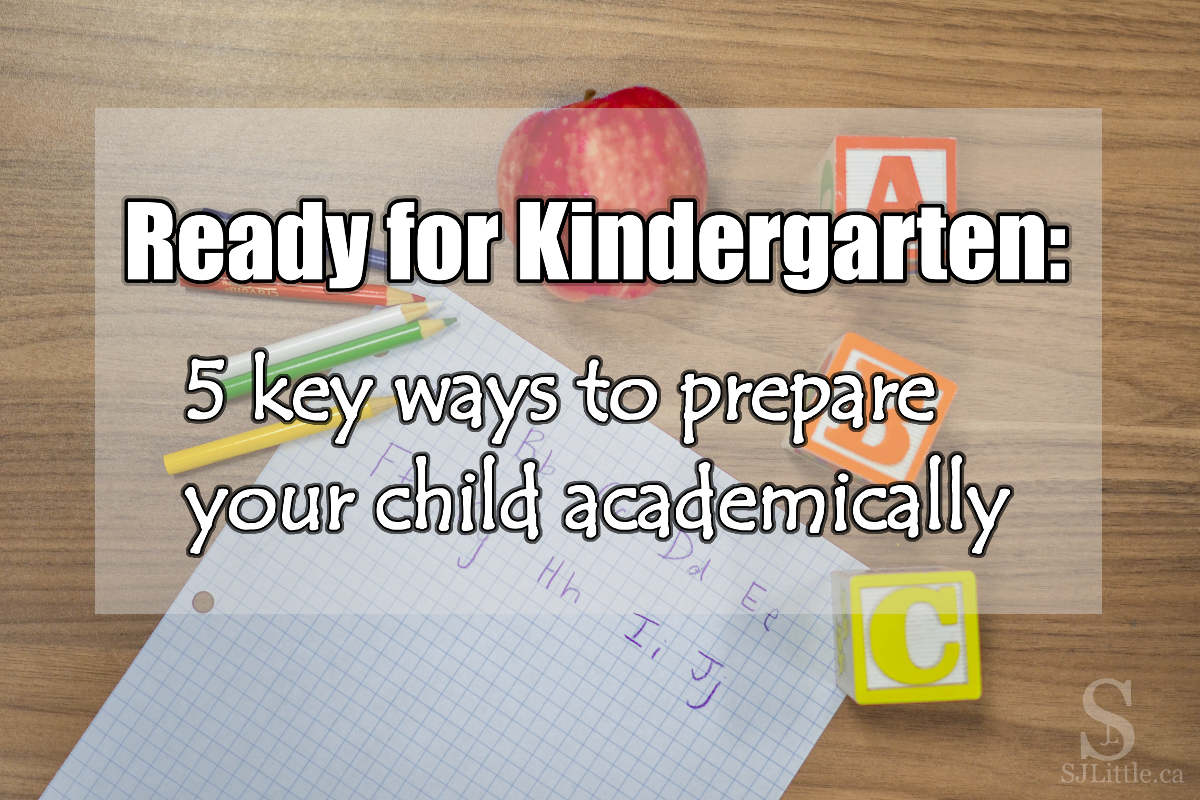 A wealth of information exists about child development and what a preschool child needs to know in order to be ready for kindergarten. Depending on where you live and which kindergarten your child will attend next year, the specifics of what they need to know will vary. Regardless, if you focus on these five core areas, your child will be well on their way to being ready for kindergarten.
Of course, there are other areas, such as social and emotional development, that must be matured in order to be ready for kindergarten, but that's another topic for another time. So, without further ado, here are the top 5 key ways to prepare your child academically for kindergarten.
1. ABCs
This is usually the first thing parents think of when they think about getting their child ready for kindergarten. Singing the alphabet song is a great start, but don't stop there.
Letter recognition

Help your child learn to recognize and name the letters. This takes plenty of repetition. Perhaps buy or print an alphabet poster. Point to each letter saying the name, then later, as your child catches on, ask them the name of the letter you're pointing to. Be sure to mix up the order when you teach your child the letter names, otherwise, they may simply memorize the order of the letters, rather than their shapes. Additionally, throughout your day, when you come across writing, ask your child to name the letters they see.

Letter sounds

While letter names are important, their sounds are even more critical for learning to read. Ideally, a child who is entering kindergarten should have a strong grasp of the concept that every letter makes a sound and that letters put together make words. They should know many of the letter sounds. For ideas of how to teach letter sounds to your child, check out this post: Teaching the ABCs

Write own name

There is a long standing debate among kindergarten and preschool teachers about who should be teaching children to write. Some teachers argue that children who learn to write incorrectly form bad habits that are hard to break later. Other teachers would disagree with that. Due to this on-going debate, I do not emphasize teaching your child to write all their letters during their preschool years. If they show interest in learning to write, by all means, do not hold them back. Perhaps buy them a workbook that shows which way to write each letter. The big key in teaching children to write correctly is thinking about where we start a letter. When we write "M", we start at the top for each line. When we write "Z" it is one continuous line. A good rule of thumb to follow is that most letters start at the top.

While I do not emphasize writing the whole alphabet, I strongly encourage parents to teach their child to recognize and write their own name before reaching kindergarten. There are loads of fantastic ideas about how to do this on the internet. Try finding one that suits your child's interests.
2. Counting
Numbers are another of those things that can be taught and practiced throughout the day. "How many apple slices do you want for snack?" "I see you have one, two, three cars parked in the garage." Teaching numbers really isn't hard.
Counting aloud

In order to be ready for kindergarten, children should be able to accurately count out loud up to twenty. Being able to count to thirty would be even better.

Number recognition

On top of being able to count, they should be able to recognize the written numbers from 0-10. Be sure to practice recognizing these numbers out of order.
3. Fine Motor Skills
Fine motor muscles are simply the hand muscles designed to do small detailed tasks such as holding a pencil or putting beads on a string. If a child's fine motor muscles are weak, they will find it difficult to hold their pencil correctly. Therefore, focusing on exercising these small hand muscles is a key part of getting ready for kindergarten. Here are a few fun ways to help strengthen your child's fine motor muscles.
Playdough

Playing with playdough, or slime for that matter, is an excellent way to strengthen these muscles. While they roll and pull and poke, they are preparing their hand to hold a pencil well.

Colouring/Painting

Colouring with pencil crayons or crayons also exercises those hand muscles. Did you know that it has sometimes been recommended to give children small broken crayons to colour with? That is because using a crayon that is only an inch or two long forces a child to use more hand muscles since it is too small to be gripped in their fist.

Painting with cotton swabs is another super fine motor muscle builder. Using paintbrushes or other painting tools may also work well. Here's a list of some creative ways to paint that your kids will enjoy: Beyond the Paintbrush

Scissors

From my experience, scissor skills are often a forgotten thing. Once a child is three or four, they are capable of using child safety scissors while being supervised. (Supervision with scissors is important as this is also the age of self hair cuts.) Teaching your child to use scissors will strengthen their fine motor muscles. On top of that, your child's kindergarten teacher will be grateful if your child is fairly competent at using the scissors.

When teaching scissors, use the rule of thumb – the thumb always goes on the top, both in how the child is holding their scissors and how they are holding their paper. One simple cutting activity is to give your child an old flyer and let them cut it into a million tiny bits.

For more on how to teach your preschooler to use scissors, check out my article: Scissors and Preschoolers – Scissor Basics

Other muscles

While we're on the topic of strengthening muscles, just a quick reminder that gross motor activities, such as running, jumping, climbing, throwing a ball, etc. are important too. Not only are they valuable for developing your child's muscles, such activities also have a huge positive impact on child brain development.

Here are a couple of gross motor activities you could try with your preschooler:
4. Broad Knowledge
Having a wide base of general knowledge helps children feel more confident and enables them to more easily grasp new concepts by connecting them to concepts they already know. Therefore, it is valuable for a child to be exposed to a broad range of learning opportunities. This doesn't have to be complicated. Rather, during your day to day activities, take the opportunities that come. Do you see an orange butterfly? Point it out to your child. Is a cement truck driving by? Tell your child what it is and what it does. In this way, by the time they are ready for kindergarten, your child will have gained a broad range of knowledge that will serve as a launchpad to learning so much more. Here are some things to keep in mind.
Shapes and colours

Part of the broad knowledge children should have by kindergarten includes being able to recognize and name basic colours and shapes. Again, teaching this doesn't have to be complicated. As you go about your day, comment about various shapes and colours as you come across them.

Read books

I can't emphasize this enough. Books are a fantastic way to give your child a wider base of knowledge than your home can give. Read stories about space or under the sea. The options are endless! Most cities have public libraries that are very low cost or free. If you sign up, you'll never run out of new books to read.

Reading books with your child is also a huge part of preparing them to learn to read. Therefore, I strongly encourage you to make storytime a part of your everyday routine. Here are some fun interactive book suggestions to get you started.

7 Fantastic Animal Guessing Books for Preschoolers

Educational screen time

While I encourage limiting or avoiding screen time for preschoolers, if you are going to give your child screen time, make sure it is positive and educational. There are many good options out there. For TV shows, I highly recommend Octonaughts. It is scientific and the social interactions between characters are largely positive.
5. Love of Learning
I've left this point until last as I want to be sure you remember it. Having a desire to learn is more important to school success than knowing the alphabet inside out. Therefore, as you're teaching your child the things above, be sure to keep it fun.
Lead by example

Keep in mind that your child is likely to pick up on your attitude. If you are excited about learning and asking questions, they will be too. With this in mind, be curious about things. Ask questions like, "I wonder how bees know where to find the flowers?" It's okay if you don't know the answer.

Learn what they love

Encourage your child to learn about what they love. Of course, this is not an excuse to avoid learning things that are important but

less exciting to the child. H

owever, especially at this young age, you could use what they love to help teach them other things. Do they love zoo animals? Find an animal ABCs book.

Having said that, I would encourage parents to try to focus on the broad open-ended interests of their child. If your child's favourite is Paw Patrol, try buying them a set of toy dogs rather than a Paw Patrol toy. Why? Because a toy dog set provides a far greater range of potential play possibilities than a specifically Paw Patrol toy would.
In summary, preparing your child for kindergarten doesn't have to be difficult. Be intentional to seize the learning opportunities in your day-to-day life and your child will be well on their way to being ready for kindergarten. While you're at it, be sure to have plenty of fun. Learning ought to be a captivating adventure.