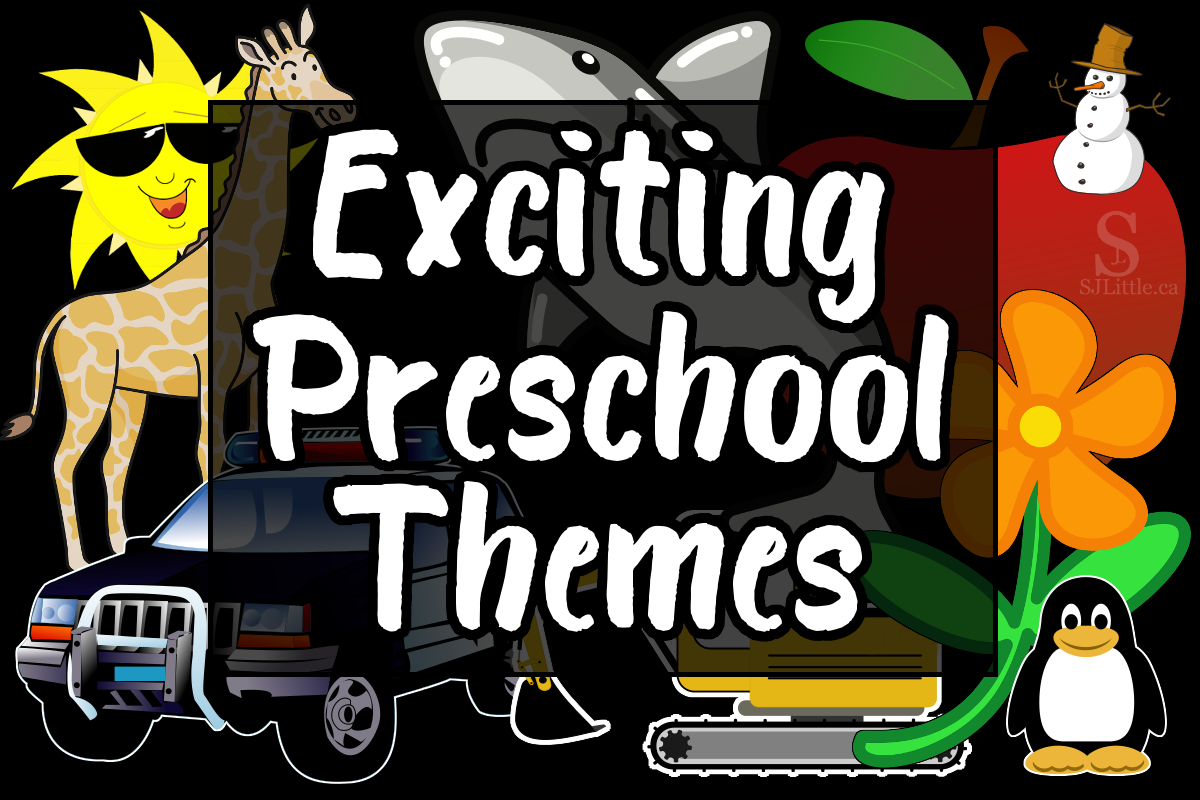 Having been asked about preschool themes to teach, I've compiled a list of various themes that can be used with a preschool child at home or with a whole class at a preschool or childcare centre.
I've attached a free printable pdf of my list of themes at the bottom of this post.
How long should you use a theme?

That depends on your situation and your children. I've taught in preschools that use one theme a week, though sometimes a big theme is extended over two weeks or more. Other preschools will choose to combine two themes and keep them for an entire month. The best length for you will be affected by how engrossed you are in the theme and how often you teach or do crafts regarding the theme. Also, pay attention to your children's interests. If you know your children love animals, you likely could use an animal theme for longer. Other times, however, changing up the theme every week will keep the children more engaged.
What aspects can be affected by the theme?
You can embrace your chosen theme as much or as little as you want. Here are some areas you could choose to incorporate your theme.
Circle time:

The first place most people think of incorporating a theme is during the teaching time, referred to by preschool teachers as circle time. Themes can be incorporated through songs, stories, activities, and direct teaching. Using visuals is beneficial whenever possible.

If you're looking for song ideas, glance at my Big List of Simple Preschool Songs.

Crafts:

There are endless craft ideas available online to go with nearly any theme. A quick search on Pinterest will show you a few. Keep in mind, theme-focused crafts are often product-oriented (i.e. the child is given a specific example to replicate). There are benefits to product-oriented crafts, but don't forget to include some open-ended art as well. For "Autumn" you could give your child a blank paper and yellow, orange, and red paints to use however they'd like. For "Transportation" you could allow your child to drive cars through paint and make tracks on their paper. (Cleanup for this one is trickier!) For other open-ended ideas check out "Beyond the Paintbrush" then put on your thinking cap to tie them into your theme.

Books:




If you have a local library, books are a great way to incorporate a preschool theme. Is "Under the Sea" your theme? Search for books about fish, sharks, and the ocean. Some themes have countless fantastic books, for other themes it's harder to find suitable books. Here are some books I've enjoyed with my preschoolers, sorted by theme: Books for Preschoolers and Toddlers

Decoration:

Some preschools will totally transform their classroom with theme-based decorations (bulletin boards, posters, etc.). It's a lot of work! Others rarely change their decorations. A happy compromise, in some cases, could be having one theme-decorated area or bulletin board that you change based on the theme. If you don't have posters, consider putting up crafts the children made or printing colour sheets corresponding with the theme. However, don't feel bad if you don't decorate by theme. It is not essential.

Games/Gym:

Get creative during gym time. With preschoolers, a simple game such as this one "4 Sides Preschool Gym Game" can be adapted to countless themes. Alternatively, if learning about Space, grab some hula hoops and pretend to fly to the moon together.

Field Trips/Outings:




Some themes work well to be taken outside the home/classroom. Are you learning about bugs? Go on a bug hunt around the yard or neighbourhood. Are you studying transportation? See how many different types of transportation you can find on a walk around the block.

Visit the zoo, aquarium, pet store, science center, or a farm, if your area has them.
Looking for more tips for how to implement a theme and use it to create a curriculum that's just right for your children? Check out my post: Create Your Own Preschool Curriculum for Free
Preschool Themes List:
Any season:

All About Me

Alphabet

Numbers

Shapes

Colours

Safety

Community Helpers

Science

Space

Music

Emotions

Five senses

Healthy Eating

Healthy Habits

Reduce, Reuse, Recycle

Transportation/Things that go

Mighty Machines

Wheels

Ramps

Bible

Multicultural

Circus

Superheroes

Princesses and Pirates

Fables/Nursery Rhymes
Animal:
Here is a fantastic action song that could go with nearly any of these animal themes: If You Want To Be A…

Zoo Animals

Desert

Jungle

Safari

Birds

Pets

Bugs

Farm

Dinosaurs

Baby Animals

Under the Sea

Winter Animals

Forest Animals

North American Animals

Reptiles and Amphibians
Fall:
If your program begins in September, remember to keep these first few weeks simpler as you and the children settle into routine.
Welcome to School

Leaves

Apples

Harvest

Forest Animals

Fruits and Vegetables
Winter:

Winter Sports

Winter Olympics (when it's on)

Winter Animals

Snowflakes

Snowmen
Spring:
Bugs

Flowers

Baby animals

How Plants Grow
Summer:
Beach Party

Fun in the Sun

Teddy Bear Picnic

Summer Olympics (when it's on)
Special days:
There are many holidays that can also be used as themes, but I'll let you make your own list of those.

What other themes would you add to the list?