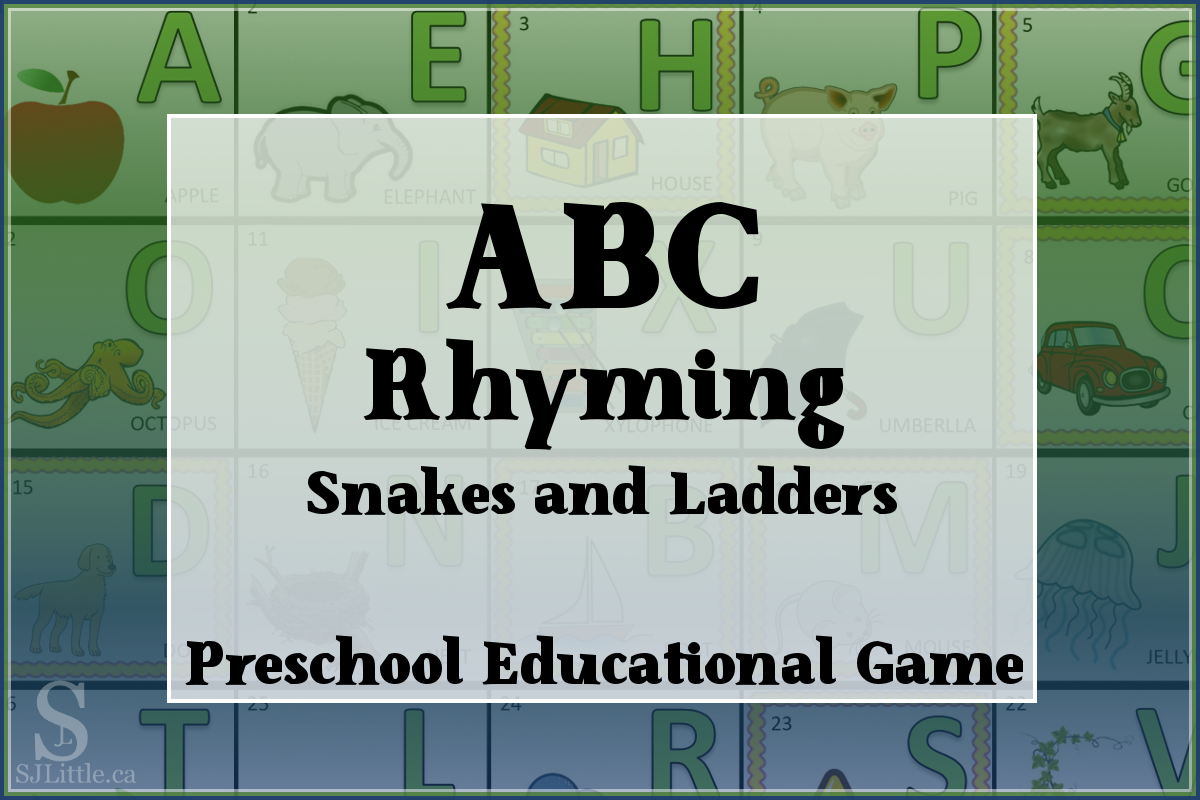 Looking for a game to play with your preschooler? Here's a new one for you to print and enjoy together.
Are you familiar with the classic game Snakes and Ladders? If so, you are well on your way to knowing how to play this game. The primary difference is that, for this game, rather than having snakes and ladders, if a player lands on a yellow framed square, they move to the matching rhyme square. Confused? Don't worry, I'll explain.
What You Need
The ABC Rhyming Snakes and Ladders Game board printed out

Alternatively, open the image on a tablet or iPad and use that as your game board.

1 six-sided die

1 playing piece per person – I encourage you to use plastic pawns from a board game. Alternatively use very small toys, buttons, or even coins. (Beware of choking hazards.)
How to Play
Place everyone's playing piece on the "START" square.

Direction of play on the game board

Have the first person roll the die and move their playing piece accordingly.

For example, if they roll "4", have the person move their playing piece to the fourth square which has the pig on it.

Players take turns rolling the die and moving their playing piece to the appropriate square.

Further details: Once everyone has had a turn to roll and move their playing piece, the first person gets to roll again. If the first person rolls a "5" on their second turn, they will continue counting from the fourth square with the pig on it until they reach the umbrella.

If a player lands on a square with a yellow frame around it, such as the boat, they move to the matching rhyme, in this case, the goat. Only squares with yellow frames have matching rhymes. The player moves to the corresponding rhyme regardless of whether they are moving forwards or backwards. (These moves are equivalent to snakes and ladders.)

The goal of the game is to reach the "FINISH" square first.
Educational Elements in ABC Rhyming Snakes and Ladders
Rhyming – Listening to the distinct sounds in each word is a challenging skill for many children. It is also an important pre-reading skill. When playing this game with your child keep in mind that learning to rhyme is difficult for a 3 year old and may still be challenging for a 4-5 year old if they have not yet been taught about rhymes. Have patience as you model and teach the skill. Say the words slowly and emphasize the rhyming sounds. Once your child has a handle on rhyming, learning to read will be a little easier.
ABC Order – You may have noticed that the letters on this game board are not in alphabetical order. This is intentional. Children are incredibly smart. It is not uncommon for a child to memorize the letters in alphabetical order rather than learning to distinguish each letter by shape. Mixing up the order of the letters gives an extra challenge and a chance for the parent to see how many letters their child can recognize by sight. I encourage you to take a moment to look at the letters on the board together.
Pictures – I have included a picture for each letter. These pictures serve as reminders for the child of what sound the letter makes. Sound out the name of the picture with your child to help them distinguish the sound of the letter at the beginning of the word. Grasping that each letter makes a sound and that those sounds can be combined into words will go a long way in preparing your child to start reading.
Counting / Turn-Taking / Waiting – These are three of the hidden developmental bonuses of playing a game like this. Every time your child rolls the die and moves their playing piece, they are practicing counting. Every time they have to wait for their turn, they are sharpening valuable social skills.
Like this free resource? Be sure to tell your friends about it and join my email list for access to other free printables.