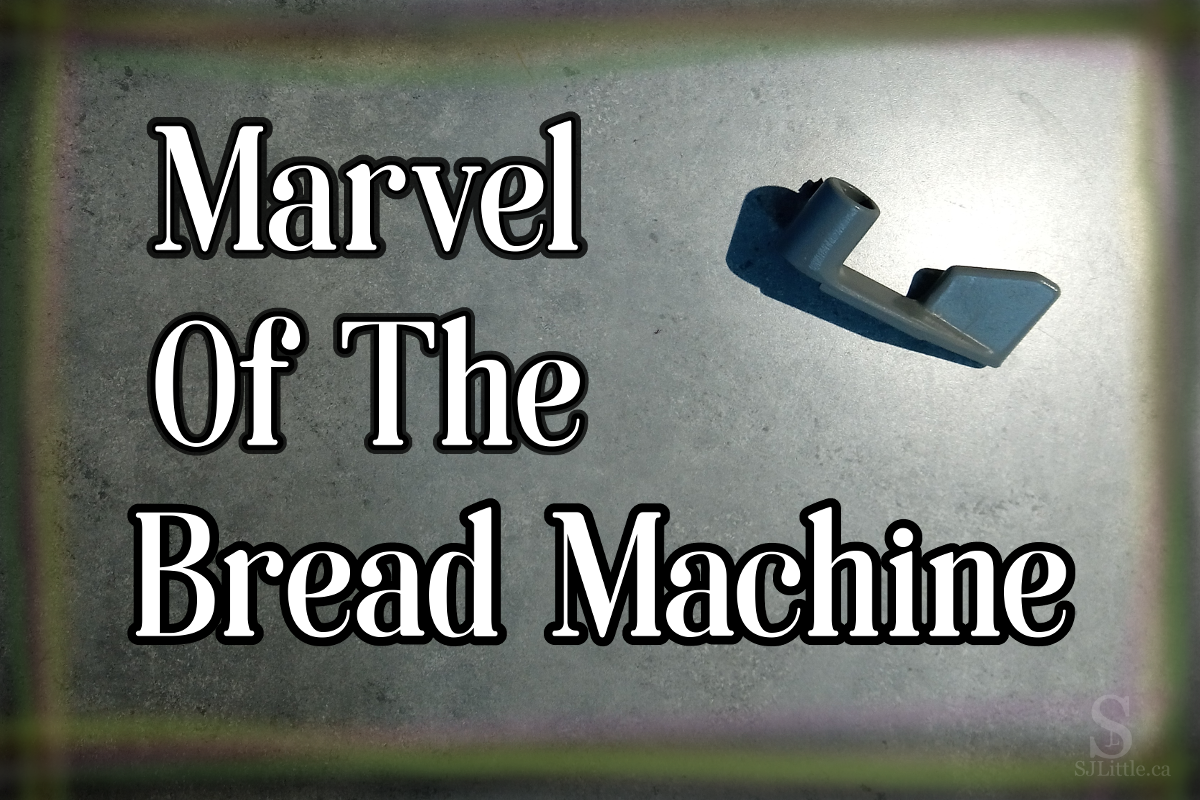 My Bread Machine
Recently, I was given a bread machine. I was thrilled to try it out.
Making homemade bread sounded appealing to me, especially when my favourite bread store closed. However, the thought of making bread by hand with all the kneading and learning the timing of waiting for it to rise, seemed daunting. It appeared to me a challenging art to be perfected, not to mention a workout.
This machine promised to handle all that for me. My job was to dump in the ingredients and push "start." Its job was to magically turn those ingredients into a loaf of fresh bread.
I skimmed through several recipes before settling on one to do first. A basic whole wheat loaf.
I pulled out the ingredients. Yup, I had everything. I brought the bread pan to the table. Somehow I needed to attach that little paddle in the bottom. It took me a couple of tries before it slid into place. No screws or pins, just a little paddle sitting on a shaft. How would such a little thing be able to do the work that I, as a full-grown human being, found intimidating?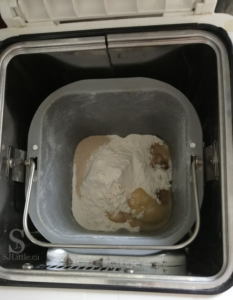 Well, apparently it would work, so I started measuring the ingredients. First the water, then the flour. Following that, the rest of the ingredients were dumped on top. I'd heard that it's important to keep the yeast from touching the water and salt so I was careful to keep them separated.
That was it. All the ingredients were in. I re-checked the recipe to make sure I hadn't missed anything. All good. Time to put the pan into the machine and figure out how to turn it on.
I closed the lid and plugged the machine in. Would it really turn such a small mound of ingredients into a full loaf of bread? There was only one way to find out.
I opened the manual and discovered that all I needed to do was press "Start". So, I pushed the button. Right away I could hear the machine start working. It was rather noisy.
It pulsed and then whirled for a long time. Then it stopped and was silent. Again it whirled, then went silent. The indicator light told me which stage it was in: knead, first rise, second rise, and then bake. Finally, after a couple of hours, it reached the bake stage. The outside of the machine warmed up. I held my breath.
Just over four hours after I hit start, the machine beeped. I hurried to it!
It was done! I unplugged the machine and opened the lid. With oven mitts, I pulled out the pan and shook a golden fresh loaf onto the cooling rack.
There it was. I couldn't help but marvel at it. Somehow that boxy machine and its little paddle had turned the ingredients into delicious fresh bread.
Living the Little Moments Well
As I pondered the marvel of the bread machine, I wondered what I could learn from it.
Perhaps one of the clearest allegories has to do with the impact I have on people's lives. Whether it be children, family, neighbours, colleagues, or whoever else I have in my life, the little moments eventually add up to having a big impact.
That bread machine paddle was small – I could hold it in the palm of my hand. Yet, as it went around and around and around, it had a huge impact. Sometimes it just pulsed, sometimes it rotated to the right and sometimes to the left. Little by little, it mixed the dough just right.
Sometimes I wonder if I need to be the next Billy Graham to tell people the Good News, or I feel like I have to be some super-neighbour.
The bread machine shows me that I don't have to do something huge to impact others for great good. Rather, I need to live the little moments well.
What is it about the little moments that hold such value? Acting in love.
As Paul reminds us:
"If I speak in the tongues of men or of angels, but do not have love, I am only a resounding gong or a clanging cymbal. If I have the gift of prophecy and can fathom all mysteries and all knowledge, and if I have a faith that can move mountains, but do not have love, I am nothing. If I give all I possess to the poor and give over my body to hardship that I may boast, but do not have love, I gain nothing." (1 Corinthians 13:1-3 NIV)
Indeed, Paul instructs us to: "seek to lead a quiet life, to mind your own business, and to work with your own hands, as we commanded you, so that you may behave properly in the presence of outsiders and not be dependent on anyone." (1 Thessalonians 4:11-12 CSB)
I am to aim to live the little moments of life well rather than focusing on the big ones while neglecting the little ones.
The Order Matters
There is one more key to be mentioned. The bread maker gives a critical clue regarding how such little moments can have so large an impact. The order of things matters.
I have observed that every bread machine recipe starts with putting in the water and/or milk. While I have not been told such, I believe I can safely conclude that putting the flour in first would cause the machine great trouble.
What can I learn from this? Is there something that must always come first in my life? Indeed there is.
I am to love God first and foremost and seek Him above all else. (Matthew 22:37-38, Matthew 6:33) When I do so, every little rotation will have meaningful impact.
When I fail to put God first in my life, like failing to add water first in the bread machine, I will have great difficulty making anything worth keeping. In fact, I may totally break down because the pressure is too great and I cannot rotate at all.
Does leading a quiet life mean I should keep to myself and never be bold for Jesus? No.
Paul tells us:
"Look carefully then how you walk, not as unwise but as wise, making the best use of the time, because the days are evil. Therefore do not be foolish, but understand what the will of the Lord is. And do not get drunk with wine, for that is debauchery, but be filled with the Spirit, addressing one another in psalms and hymns and spiritual songs, singing and making melody to the Lord with your heart, giving thanks always and for everything to God the Father in the name of our Lord Jesus Christ, submitting to one another out of reverence for Christ." (Ephesians 5:15-21 ESV)
Therefore, as I go about my day today, may I make it my goal to live wisely. What does that look like? It looks like putting God first and doing my best at what He has given me to do. Being intentional to do the little things well, with love. As the bread machine has shown me, that is how to have a big impact.
Interested in reading another allegory about the impact we leave on people's lives? Check out The Time of Blossoms