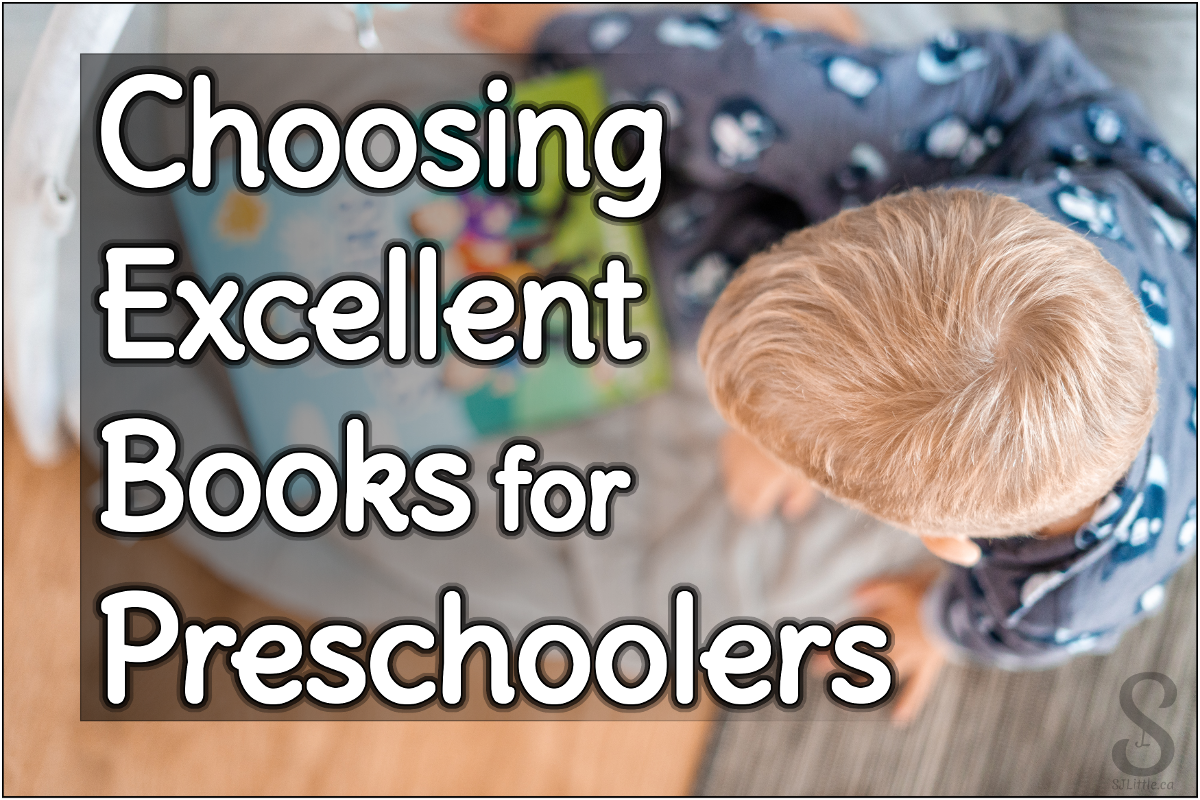 "Read books to your children." We hear it over and over again. Indeed, it is true that reading good books to your children gives them a notable advantage in learning to read as well as other developmental benefits.
"How do I know which books are excellent books?"
There are countless children's picture books to choose from. While just about any book would provide some benefit, some books provide far more benefit than others. Keep reading to learn some elements to consider when looking for excellent books for your preschooler.
Age-Appropriate Books?
Story Reading Phases

As children grow they go through different phases of interest in and attention span for books. Every child will develop at a different rate and may go through different phases.

Curious what this looks like? Here's an example.

A 0-2 month old may show absolutely zero interest in books.

A 3-9 month old may enjoy cuddling with you while you read short rhyming picture books. They may also be fascinated by books with photos of real people.

A 10-18 month old may not have the patience to sit for a whole story. Rather than reading the book, they may enjoy watching you point to pictures in the book while naming the picture or its sound. ("This is a cow. Cows say 'Moo.'")

A 19-24 month old may be ready to sit with you while you read short stories. They may ask you to read a favourite book again and again. They most likely enjoy interactive books, such as lift-the-flap books.

A 2-3 year old is likely ready to start enjoying books with more storyline. Interactive books are likely a big hit with this age group.

A 4-6 year old typically is ready for somewhat longer stories. They will likely interrupt the story many times to ask questions like, "why?".

Observe

How do you know what story reading phase your child is in? The best clue is observation. If the book you are using, and the way you are reading it to your child is right for their phase, they will be engaged and interested.

Note that different times of day and/or different settings will greatly affect which sort of book is right for your child. Mid-morning your child may not have any interest in books, but just before bed snuggling close while you read a story might be their favorite thing.

Large Group or One-on-One?

Are you reading the book to a large class full of children, or to one child who is snuggled up beside you? My time as a preschool teacher has taught me that the bigger the group and the more distracting the setting, the shorter and/or more engaging the book needs to be.
Writing Style
Different picture books work better for different reading phases depending on their style. Here are some elements of writing style to consider.
How Many Words – generally, the younger the child, the smaller the word count needs to be.

Rhyme vs. Prose – if rhyme is well done, children will be more engaged.

Repetition and Rhythm – strategic repetition and rhythm draw a child in, making the book feel interactive. In Brown Bear Brown Bear, Bill Martin Jr makes excellent use of repetition and rhythm.

Sing Along – some sing along books are fantastic, others are way too long for most preschoolers. Watch your child's cues in case you need to stop halfway through.

Story Arc – As children reach their 3rd birthday, they tend to begin preferring books with a story arc – a beginning, middle, climax, and conclusion. At first, these story arcs can be very simple, such as Eric Carle's The Very Hungry Caterpillar. As the child's attention span grows, they will become interested in more and more complex story arcs.

Illustration Style – some illustration styles mesmerize children, others simply do not. How can you tell which illustration styles your child enjoys? Observe their reactions. Remember, though, that their interest in different illustration styles can shift and change as they pass through different reading phases.

Sense of Humor – A book that makes your child laugh will keep them more engaged. Like with everything else, what a child finds funny will shift and morph as they grow.
Choose How to Read
Some books can easily be adapted to different reading phases depending on how you read it.
Read Text, Abbreviate the Story, Discuss Pictures, or Ask Questions

You pick up a book to read to your child, but right away you realize it has far too many words for your child's current reading phase. No problem. Try simplifying the story into your own words, or merely enjoy looking at the pictures with your child.

Or perhaps you have a 4 year old, and the book you want to read is far too simple. Ask questions to make it a fun interactive book for your child.

"Oh, look, there's a horse and a baby horse. Do you know what a baby horse is called?"

"I see an ice cream cone. Let's count how many scoops of ice cream are on it. What's your favourite type of ice cream?"

Read It Again or Only Once

Generally speaking, the younger the child, the more times you can repeat the same book before they get bored.

When reading to a group of children aged 2 years old and up, I typically encourage reading a new book almost every time. This will help keep even the more advanced children interested and engaged. When children are bored because they have heard the story before, they are far more likely to cause mischief.
Teaching
Aside from the educational value of reading books to your child, the books you read will begin to shape how your child thinks and responds to other people and the world around them. I encourage you to be intentional to find books that teach your child well.
Role Models

Preschool children absorb what they see and hear. The characters in books become role models for them to mimic. Watch carefully that the characters in the books you choose are setting good examples for your child.

I had a 4 year old in one of my classes who used an inappropriate word. When another child declared that he shouldn't use that word, the 4 year old shrugged, saying, "What? It's what they say in the movies."

Positive vs. Negative Tone

Similarly, some books have a positive optimistic tone while others include much whining and negative mindsets. Even as an adult, I find that when I read a book in which there is a lot of complaining, I catch myself complaining more. If this is the case with me, how much more so will this happen with our preschoolers?

Check for Subtle Messages

These days, many newer books include subtle messages encouraging and glorifying things such as activism, extreme environmentalism, and other current philosophies or morals.

You as the parent or caregiver get to choose whether you want these worldviews instilled in your child or not.

Educational

Many books have excellent educational elements so that while you are reading a fun book to your child, you are also teaching them about colours, or how plants grow, etc.
Library
Now that you know how to choose excellent books for your child, where are you going to look for those books? I highly recommend checking to see if there is a local library you can use. Not only will this save you the cost of buying each book, but it will also give you a nearly endless supply of new books to choose from.

Visiting your library in person allows you to skim through the books before bringing them home. Alternatively, many libraries allow you to search online and place a hold on books that interest you. This is especially helpful if you are looking for books relating to a specific theme.
What are some of your absolute favourite excellent picture books for children? Let us know in the comments below.