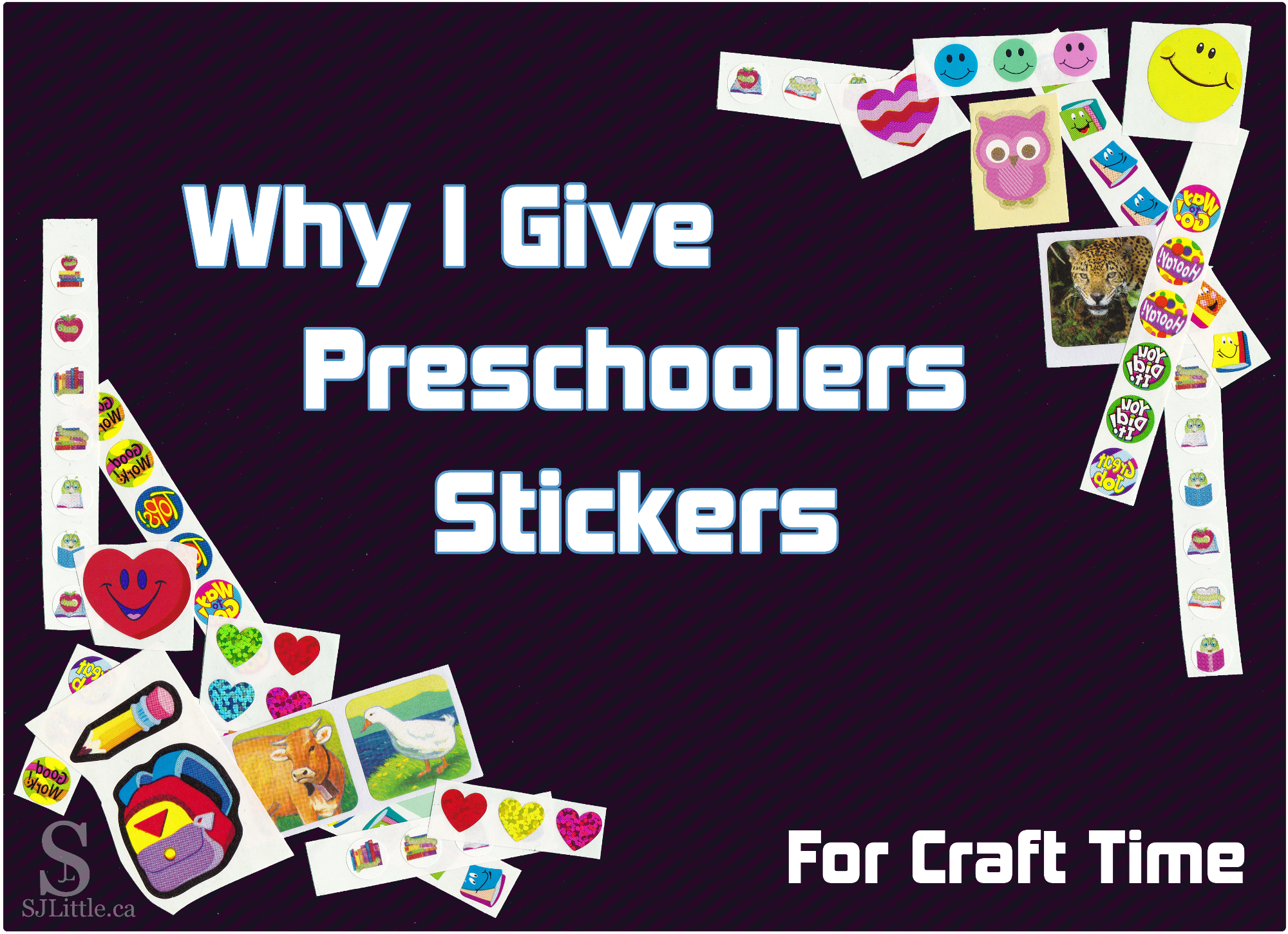 Why do I sometimes give preschoolers stickers for craft time? Am I being lazy? No. When used intentionally, stickers provide multiple benefits for preschoolers.
Benefits of giving preschoolers stickers
Before they can effectively hold a pencil, a child needs to strengthen their fine motor muscles and hand-eye coordination.

Simply put, fine motor muscles are the small muscles in the hands. These muscles are used to do fine detail tasks such as holding a pencil, picking up a spoon, and putting beads on a string, among countless other tasks. When a child strengthens these muscles in their pre-writing years, they have an advantage when it comes time to learn to write. Peeling stickers and putting them on paper, exercises those fine motor muscles.

Hand-eye coordination is another super valuable skill for preschoolers to develop. In basic terms, it is getting one's hand to go where one wants it to go. Activities such as feeding oneself with a spoon, writing letters, and giving high fives require good hand-eye coordination. Coordinating hands to peel the stickers and then placing the stickers where they want on the paper, are great ways to practice using hand-eye coordination.

In our fast-paced world, teaching a child to sit down and focus on one task for a length of time can be challenging. Stickers, I have found, can bring surprising results in this regard. Some children, though not all, are willing to sit down and work hard on peeling those stickers for longer than they would typically sit. Please don't get me wrong with this one. Yes, we want children to be up and moving, engaged in active play, but it is also important for them to be developing their attention span. Having a longer attention span can enable them to get deeper into play rather than bouncing from one toy to the next.

Most children enjoy stickers. As a teacher, I have a few children who do not enjoy craft time. Stickers might grab the interest of a child who typically dislikes crafts and help them begin to realize that sitting down to do crafts can be fun.
Tips for a smoother sticker time
Cut the sheet of stickers into strips

Rather than handing a full sheet of stickers to a child, cut the sheet into strips. For really small stickers I find 6 or 7 stickers per strip is a good number as the paper is then big enough for the child to hold. For bigger stickers, I often cut them into groups of two or three. Giving the child only one of these strips of stickers at a time helps keep them focused and motivated as it isn't an overwhelming number of stickers and there are fewer stickers to choose from at a time.

Remove sticker blank areas

I recently discovered that removing the blank areas around the actual stickers makes it far easier for little hands to peel the stickers. (See picture.)

Teach children to bend the paper

Some children need me to teach them how to get the stickers. I show them that bending the paper causes the sticker to lift up for easy removal. (See picture.)

Avoid "thin papery" stickers

Beware of thin papery stickers as they may rip easily when being peeled from the paper, making the activity difficult and discouraging for children.

Mess-free craft

This is an excellent craft for picture day. When all my children are dressed in their finest outfits, and feeling fidgety due to the special day, stickers are my go-to. They won't stain fancy clothes and the children are excited to use them.
What are your tips for giving preschoolers stickers for craft time? Do you see other benefits of using them?