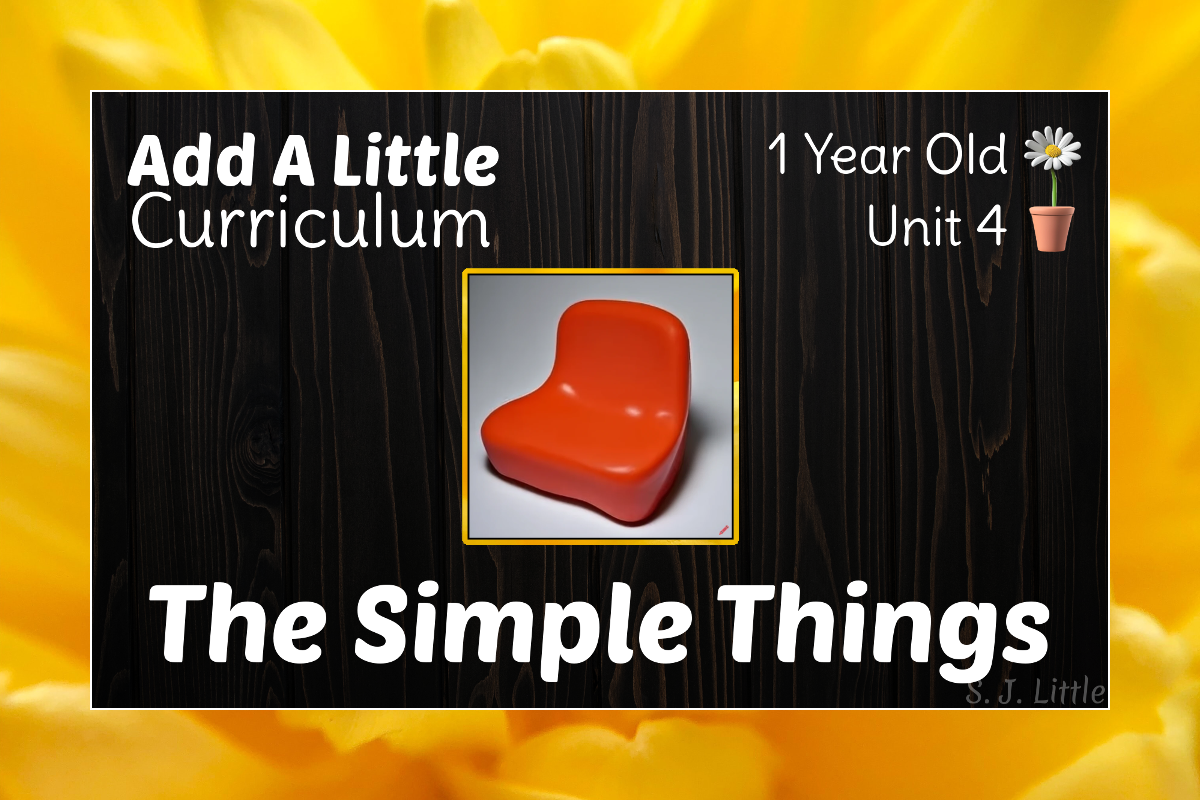 Add A Little – 1 Year Old Curriculum – Unit 4
The Simple Things
Vocabulary: Sit, Stand, Pull, Tape
Disclaimer: All activities require adult supervision and discretion. Read more…
Let's Wiggle
Sit On It
Supplies:
A low sturdy thing to sit on (see prep).
Prep:
Find something for your child to sit on. Consider

A booster seat

Detachable stroller seat if it is stable on the ground

A 4″ tall wide strong box (add some weight inside to keep it from sliding)

A pack of 12 soup cans.

Clear an area of bumping hazards around the seat.

Consider placing soft mats or blankets around the seat.
Time to Play:
Show your child the seat and encourage them to sit on it. They likely need your help and guidance the first several times, but then back off to see if they can do it themselves.
Comments:
This activity will hold stronger appeal for toddlers who can already walk independently. If your child isn't walking yet, they may still like this activity. If not, consider re-trying this activity in a couple of months.
Let's Explore
Tape Pull
Supplies:
Painters tape (or other tape that comes off cleanly. Alternatively consider using sticky notes).
Prep:
Select a surface you don't mind putting tape on. Possibilities include a wall, the back of a door, the side of a bookshelf, the refrigerator.

Place five to ten 5″ pieces of tape on the wall leaving one end hanging loose.
Time to Play:
Show your child how to pull one piece of tape off the wall, then put the piece of tape back.

Encourage your child to try pulling all the tape off the wall.
Let's Sing
Christian Song
God is so Good
Let's Read
Big Board First 100 Words
Roger Priddy
(This is an affiliate link meaning I earn a small commission when you make a purchase at no added expense to you.)