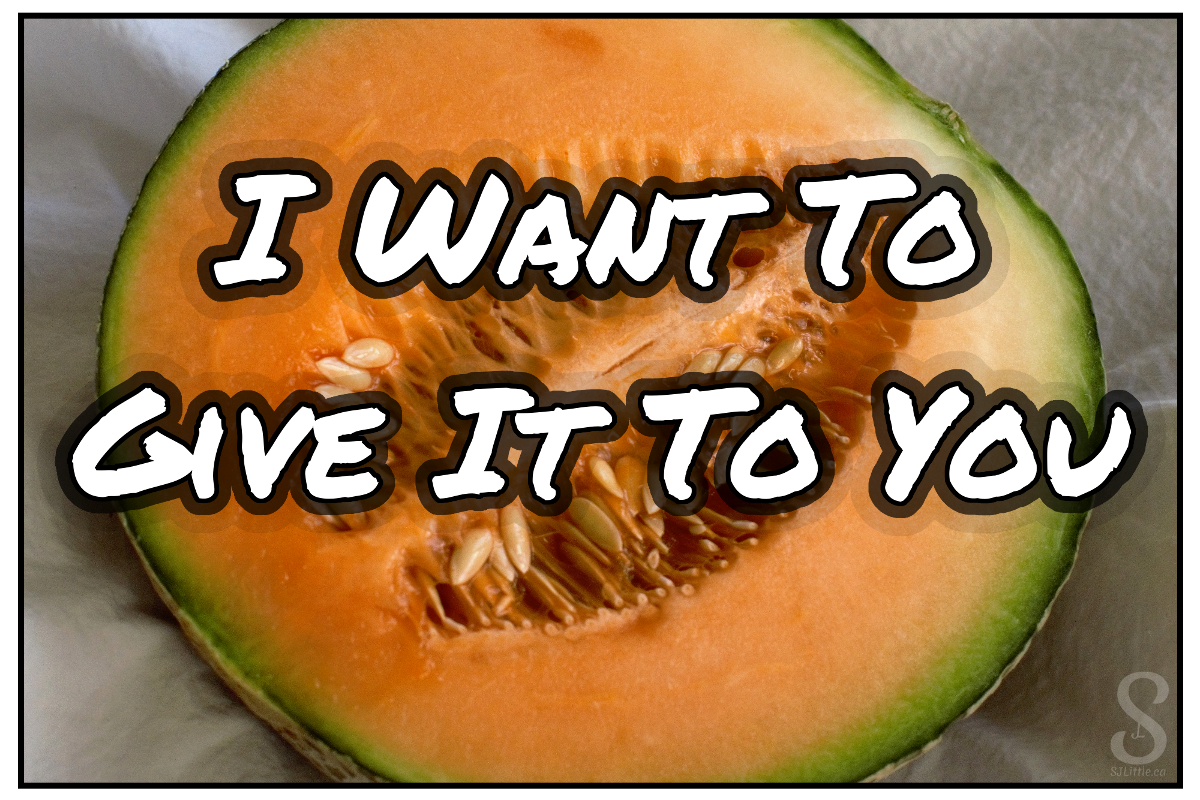 Wandering into the kitchen, my toddler spotted the cut-up cantaloupe in a container on the table.
Excitement flooded her face.
She pointed toward it. "Yeah, yeah."
"You want to eat some cantaloupe?" I ask.
She points into her mouth and pretends to eat. "Yum!"
"Okay, you can have some cantaloupe. Climb up on your chair and then I can give some to you."
Her face fell and she began to whimper.
"You don't need to cry. I will give you some, but you need to be in your chair."
Tears appeared as her crying intensified.
I continued placing the rest of the breakfast items on the table.
Once complete, I turned my full attention to my little girl. She was still crying, clinging to her toy puppy.
I met her gaze. "Why are you crying?"
She pointed at the cantaloupe.
"You want to eat cantaloupe?"
She nodded.
I took her hand. "I want to give you cantaloupe, but you need to be in your chair for me to give it to you."
Sniffling, she let me guide her to her chair and set her in it – though she often climbs into it all by herself.
She buckled herself in while I reached for her bib and tray.
I set her puppy aside.
She pointed at the cantaloupe again. "Yeah, yeah."
"Can you ask nicely?"
She rubbed her chest to sign "please."
I picked the container up. "Nice asking. You are in your seat now, so I can give you some cantaloupe."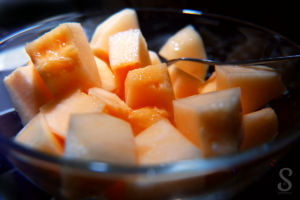 I put a piece on her tray.
She eagerly reached for it and took a big bite.
I grinned. "Cantaloupe is yummy."
Later, as I went about my day, I found myself wondering if there has ever been a time when I asked God for something and His response was not "Yes" or "No", but "You're not ready for it."
The Old Testament has plenty of examples of this, perhaps one of the clearest being the Israelites as they headed toward the Promised Land.
God had dramatically rescued the nation from slavery at the hands of the Egyptians. Before too long, they arrived at the border of the land God had promised to Abraham and now desired to give to Israel.
It was an abundant and prosperous land. It would have been such a blessing, but when the time came to go in and receive what God desired to bless them with, they chickened out.
God told them to go forward by faith, but they didn't.
Their hearts were not in the right place. They were not ready to receive what God wanted to give them.
As a result, God made them wander in the wilderness for 40 years until that generation had died off.
Before I go any further, I must pause to remember that this allegory does not relate to God's love. God's love for me is unchanging. It does not depend on my goodness. God loves me and He will always love me no matter what I do.
It also doesn't relate to the salvation God gives. Salvation is not based on what I can do. Salvation is based on what Jesus did on the cross. I do not deserve that salvation, but God freely gives it. My job is simply to receive it with thankfulness.
Back to my story with my daughter.
I wanted to give her cantaloupe. That was the whole reason I'd placed it on the table in the first place.
The problem was, I wanted her to be ready to receive the cantaloupe. I wanted her to be in her seat with her bib on.
My daughter wanted the cantaloupe but did not want to sit in her seat.
This had no bearing whatsoever on whether I love her or not. Rather, the thing at stake was whether she would get to eat the cantaloupe.
Being a mother who cares about my daughter's health and happiness, I wanted her to eat the cantaloupe. I knew it would be enjoyable and good for her.
I was glad when she finally complied to sit in her seat so I could give it to her.
Does God feel this way about me sometimes? I suspect so.
Psalm 81:10-11 seems fitting to consider here.
"I am the Lord your God,
who brought you up from the land of Egypt.
Open your mouth wide, and I will fill it.
But My people did not listen to My voice;
Israel did not obey Me." (CSB)
God wanted to bless the Israelites. He really did, but He wanted them to be ready to receive it.
Am I ready to receive what God wants to give me?
In the Old Testament, very often God's promises had to do with physical blessings (the Promised Land, good health, national security, etc.). In the New Testament, more often God's promises are concerning spiritual blessings. (Indeed, in the New Testament, Jesus goes so far as to warn that I will face trouble in this physical world. (John 16:33))
One spiritual blessing God offers to give me is peace – a deep heart-level peace.
Shortly before going to the cross, Jesus said, "Peace I leave with you. My peace I give to you. I do not give to you as the world gives. Don't let your heart be troubled or fearful." (John 14:27 CSB)
Two things catch my eye in this verse. First, there is something Jesus desires to give me: peace. Second, there is something I must do to be ready to receive it: not let my heart be troubled or fearful.
This is only one example of something God wants to give me, yet I must be ready to receive it.
I love the way the hymn "Trust and Obey" puts it:
"Trust and obey, for there's no other way
to be happy in Jesus, but to trust and obey."
It goes on to say:
"But we never can prove
the delights of His love
until all on the altar we lay;
for the favor He shows,
for the joy He bestows,
are for them who will trust and obey."
Have I been walking in the peace and joy of the Lord recently (not a superficial happiness, but that deep heart-level joy)? If not, maybe I need to check to make sure I have been trusting and obeying the Lord.