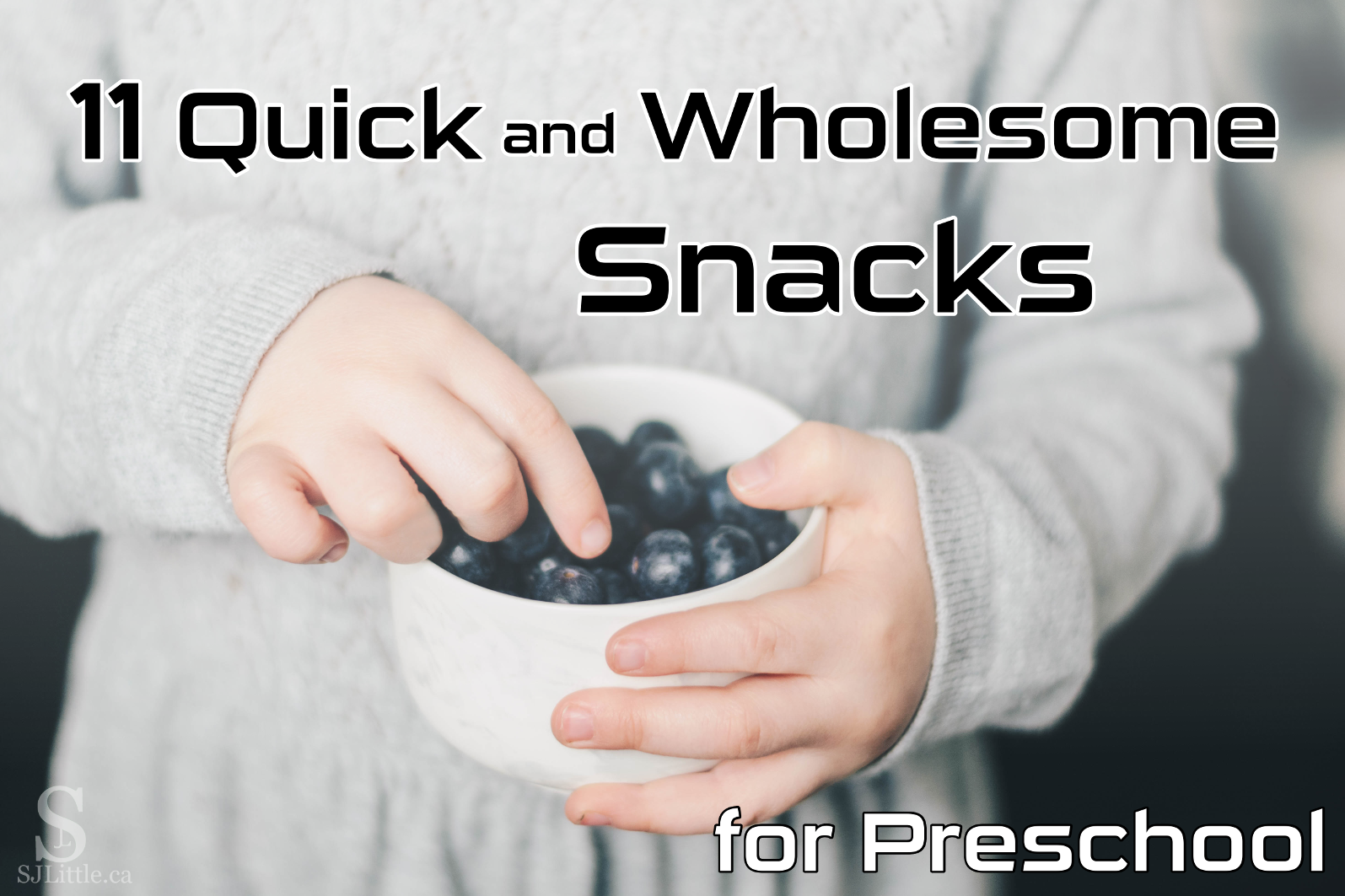 I get it. You're busy, and you're on a budget, but you still want to pack a wholesome snack for your child. What follows are some ideas for quick, easy, healthy preschool snacks that won't break the bank.
As a preschool teacher, I've seen countless snacks sent with the children in my class. Some are fantastic while others are, well… not so beneficial.
Before I continue, I'd encourage you to be familiar with your preschool's snack policy. Most likely it includes being peanut or nut-free. It may also include other things.
Disclaimer: The following suggestions are to be used at viewer discretion as every child and preschool is unique.
Fruit and Vegetable Snacks
Fresh Fruit/Veggies

A classic for excellent reason! Sending fresh fruit or veggies for your child is super healthy.

I recommend cutting the fruit for your child rather than sending the fruit whole, unless you expect them to eat the whole thing. I have had many a time when a child eats one or two bites of an apple or banana, then throws the rest in the garbage.

When cutting fruit, and with small round foods such as grapes and cherry tomatoes, be aware of their potential as choking hazards.

Possible fruit or vegetables: banana, apple, orange, peach, pineapple, grapes, berries, melons, carrots, celery, cucumber, tomato, snow peas, bell peppers, and so on.

Frozen Veggies/Berries

Recently I discovered a forgotten bag of green beans in my freezer. This quickly became one of my quick and easy go-to preschool snacks.

Put a small handful in the microwave for a minute or two. Let them cool briefly, then stick them in a container.

I like to add a touch of salt and oregano to spice it up, but that's optional.

Possible frozen items: green beans, broccoli/cauliflower/carrot mixture, peas and corn, berries, Brussels sprouts, or anything really.

Cooked Veggies

This is another of my favorites. It's healthy while still being quick and easy. My favourite is broccoli. I take enough to fill my small snack container, cut into easy finger-food size, then stick the pieces in the microwave with a touch of water for a minute. The microwave softens the broccoli so it's easy to eat without dipping. I often add a touch of salt and spices such as oregano or coriander.

Possible veggies: broccoli, cauliflower, carrots, cabbage (in small portions), among others.

Dried Fruit

I enjoy dried fruit. However, use your own discretion as to how healthy or not these are. Store-bought dried fruit may have additives or could be a concern if your child's teeth are not being brushed well. However, they are certainly healthier than many other options.

Possible dried fruit: raisins, banana chips, cranberries, dates (pitted), mangoes, apricots (pitted), etc.

Applesauce

Individual applesauce cups can be a healthy option, especially if you get the unsweetened kinds. However, be sure your child is comfortable using a spoon by themselves before sending this snack with them.
Other Ideas for Preschool Snack

Leftovers

Have leftovers from a meal your child enjoys? Why not send them along as a snack. Just be sure your child is able to eat the leftovers independently, whether that means using a spoon or whatever is needed.

Options: pasta dishes, grilled cheese sandwiches, chicken nuggets, pizza, pancakes, perogies, or rice with lentils or other sauce, to name a few.

Protein

It's often a good idea to include a source of protein in your child's snack

Protein options: cheese, cream cheese, slices of meat, pepperoni sticks, scrambled eggs, a hard-boiled and shelled egg, and so on.

Beans, hummus, and yogurt can also be included for protein. I'll give more ideas regarding those below.

Hummus

Hummus can be sent as a dip for veggies, or spread on pita bread, a tortilla, or a slice of bread.

Yogurt

Fruit yogurt is another good and common preschool snack item. I discourage sending yogurt tubes as those easily make a large mess when squeezed. Individual yogurt cups, or pouring a small amount of yogurt into a reusable container works well if your child is confident using a spoon. Yogurt drinks are also decent options.

Beans

This one might sound weird, but don't cross it off the list too fast. Next time you dump a can of chickpeas or black beans into something, eat a few plain. I knew a child who enjoyed snacking on chickpeas. I would only give beans in small amounts, and along with other snack items. They are a simple healthy addition to preschool snacks.

Crackers/Cereal/Bread

While I don't recommend sending a snack consisting entirely of these sorts of foods, having some along with fruit, veggies, or other foods can make a snack feel more complete and filling.

Crackers – there are many types of crackers available. Some are far healthier than others. Check the ingredients for things such as artificial colour or flavouring. For a bit of variety, try rice crackers, pretzels, or plain graham crackers.

Cheerios or other low sugar cereal that can be eaten dry is another option to consider.

Pita bread, tortillas, naan, and chapatis are among the many types of breads you could send with your child. Perhaps spread a little cream cheese, jam, or hummus on it to add flavour. (Be wary of chocolate spreads as they often contain nuts.)

Raisin bread – buy or make your own. Cut a slice, butter it, and place it in a container for snack. With store-bought raisin bread, I prefer to toast it lightly before buttering.
I hope this list has given you more snack ideas that are practical, affordable, and easy to do, while being wholesome and healthy. Want more ideas for packing your preschooler's snack? Take a look at this article: What Snack Options Should I Pack For My Preschooler