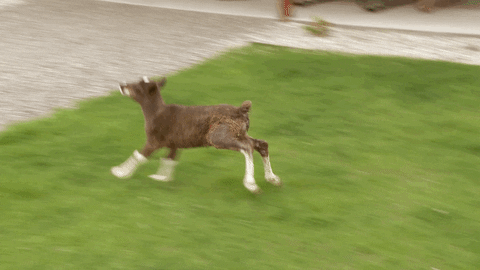 Robert the caribou calf yawned and opened his eyes.
As he rolled out of bed, he said, "Something is different."
At breakfast, he asked for more grass.
"You're hungry today!" his mother declared.
When he played with his trains, his tail began to twitch.
While watching cartoons, his ears began to swivel.
As he coloured a picture, his hooves began to fidget. He had to move!
"Mom, can I play outside?"
"Yes, you may."
Robert dashed to the door and hurried out.
Warm sunshine touched his face. Grass peeked around decaying leaves where snow had been. Everything was turning green.
Robert galloped round and round.
He paused to smell the rich dirt as a worm wiggled through.
Hearing a melody, Robert looked up at the tree. "Welcome back, Mr. Robin!"
Sniffing the fresh air, Robert pranced through the yard.
Now he knew why he needed to move.
"Spring is here!"