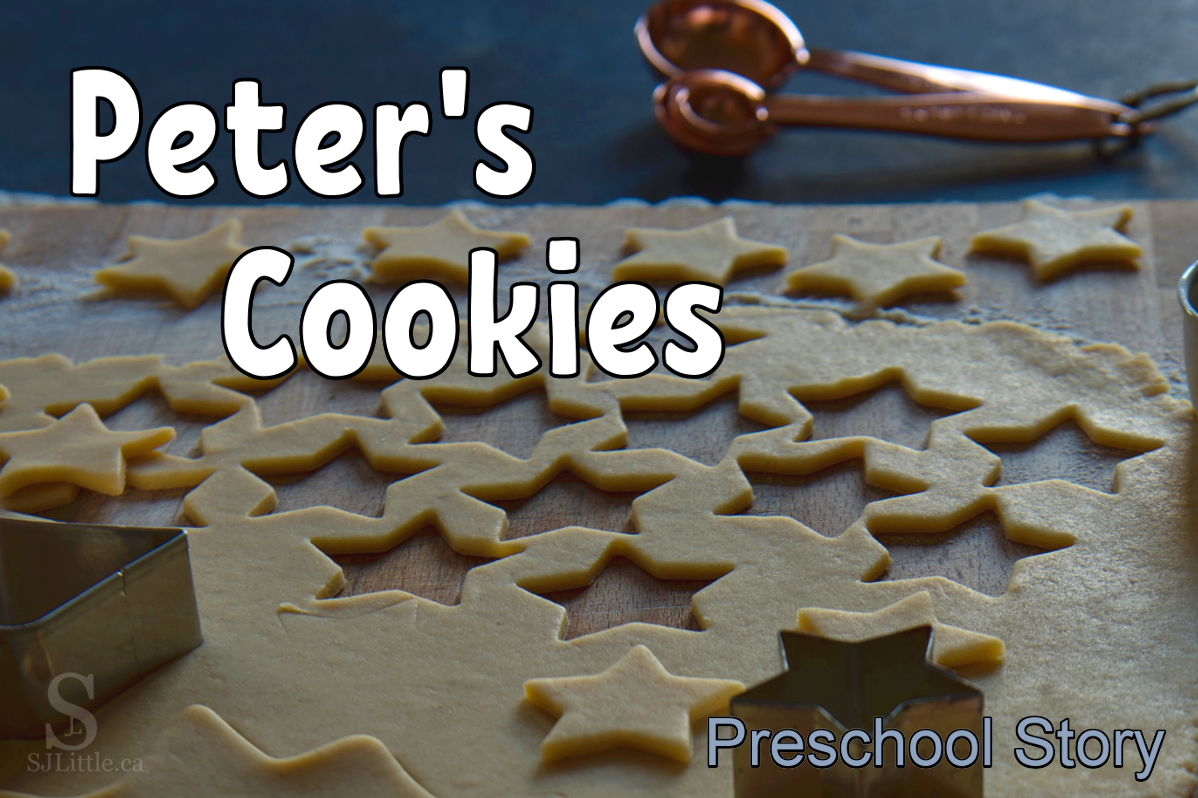 Peter's Cookies
Preschool story by S. J. Little
Entered in Susanna Hill's 9th Annual Holiday Contest
Contest: "Write a children's holiday story about A Holiday TREAT!"
Word count max: 250
Peter's Cookies word count: 247
Cold snow tickled Peter's nose as Mother hurried him along.
Suddenly, he pointed at a shop window.
"Look Mommy! Giant star cookies! Can I have one?"
Mother shook her head. "I'm sorry, Peter. Those beautiful cookies are too expensive for us."
Peter sighed. The cookie would've been a yummy treat.
When they got home, Mother scurried around the house getting everything ready for when Grandpa would arrive for Christmas.
"Mommy, can you make cookies for Grandpa? He loves cookies!"
"I'm sorry, Peter, I don't have time. I have to clean and make dinner."
Peter frowned. Then he had an idea.
"Can I make cookies for Grandpa?"
Mother looked at him, and smiled.
"That's a fine idea."
Peter washed his hands and found the mixing bowl. He could do this!
One, two, three, he counted the scoops of flour.
One, two, three, he measured the spoons of sugar.
Mother cracked the eggs.
Peter stirred and mixed and stirred some more.
Then he scooped and scraped and rolled.
He cut star cookies as big as the ones in the shop.
Mother put the pan in the hot oven.
Peter put everything away.
Then he waited.
Beep, beep! The timer sounded.
Mother pulled the pan of golden cookies from the oven.
Peter added red, green, and white icing. He even put sprinkles on top.
Ding, dong! The doorbell rang.
"Grandpa!"
"Do I smell Christmas cookies?" asked Grandpa.
Peter grabbed his hand. "Come see!"
"These are beautiful! What a tasty treat!"