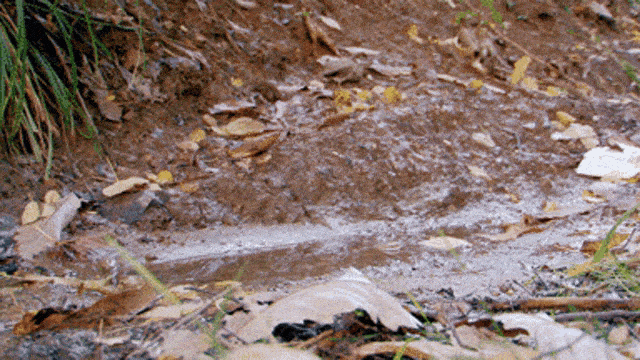 Joey looked at the ground. Last night's rain had created mud.
"Look! Footprints!"
Joey examined the footprints. "Four round toes and no claws. What animal could it be?"
He followed the footprints and spied an orange tail twitching behind the flowerpot.
"They're cat footprints."
Joey studied the ground again. This time he spotted long skinny footprints.
"Three toes pointing forward and one pointing backward. I wonder who made these?"
He followed the footprints until they disappeared.
"Where did they go?"
A bird chirped from a nearby fencepost.
Joey grinned. "You made those footprints, didn't you?"
Looking at the ground by his rubber boots, Joey noticed more footprints.
"So small! Four tiny toes."
He followed the footprints to a large tree trunk. Chattering overhead made him look up.
"A squirrel! What little toes you have."
Turning back toward his house, Joey spotted bootprints.
He laughed. "I made footprints too!"