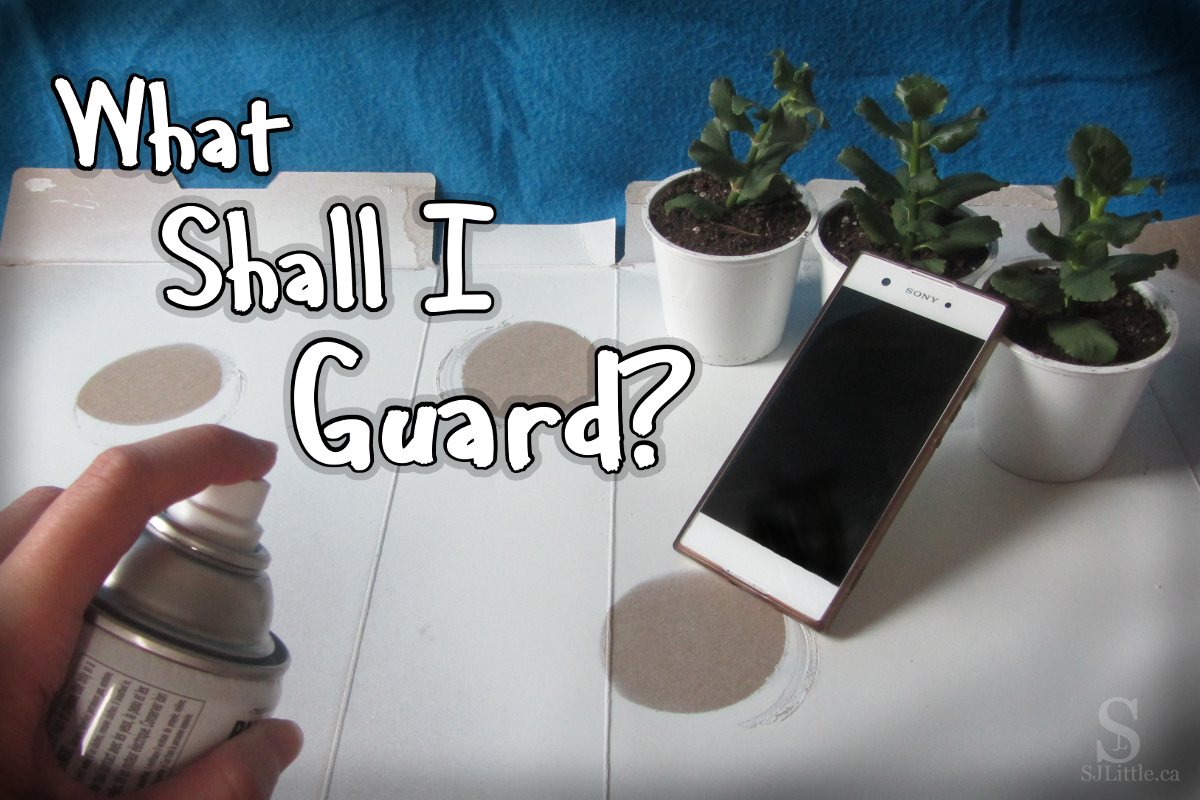 A few days ago, I needed to do some spray painting. I gathered old cardboard, the little flower pots I planned to paint, and the spray paint can.
I switched into old jeans and a t-shirt and took my watch off to keep it clean.
Outside, I set everything up. Then I looked at my phone.
I was expecting a text soon to which I'd need to reply. Therefore, I couldn't leave the phone inside and miss the message. However, I certainly didn't want to get paint on my phone!
I slipped it into my back pocket. That wouldn't work. The pocket was too short leaving part of the phone exposed.
Pulling it out, I studied my phone. One end of the phone had the cameras and the headphone jack. Paint on the main camera would prevent me from taking pictures, but I often enjoy using my phone camera. Spray paint over the reverse camera would make Zoom calls impossible. Not good. As for the headphone jack, I don't use headphones often, but losing the option wouldn't be favourable. Therefore, I slipped the phone back into my pocket with the camera side down. That would keep it safe.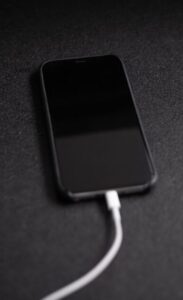 But wait! The part of the phone now exposed was the power cord plug-in! That would never do. If the phone can't be charged, then none of its functions would be usable!
Reluctantly, I switched it the other way around. Now the power plug-in was protected. I would be disappointed if the camera got damaged, but I owned a different camera I could use. What I wouldn't have was a working cell phone if this one died.
Thankfully, I didn't get any paint on my phone. I was paying enough attention to not touch it when my fingers were sticky with paint.
The lesson
Why do I recount this little story? Because there is a lesson here for me.
Similarly to how I needed to choose which part of my phone to protect, I must choose every day what parts of life I protect the most.
To some people, taking the time to think about which way to put my phone in my pocket may seem excessively cautious and pointless. Likewise, I sometimes neglect to put thought into what I want to prioritize in my life. It seems unnecessary to take time to think about prioritizing when I could be using that time to accomplish something instead.
The challenge is, like with my phone's power plug-in, if I fail to guard the most important parts of my life, everything else will suffer.
So what parts of my life should I guard?
What the Bible tells us to guard
To find the answer, I did some research. I searched for the word "guard" in the Bible. Here are some of the verses I found.
I must be sure the way I am living does not involve evil.
"The highway of the upright turns aside from evil; whoever guards his way preserves his life." (Proverbs 16:17 ESV)
What do I use to help keep my way pure and good? The Bible.
"How can a young man keep his way pure? By guarding it according to Your Word." (Psalm 119:9 ESV)
My heart needs tending to as well.
"Above all else, guard your heart, for everything you do flows from it." (Proverbs 4:23 NIV)
Here's something I must guard against.
"[Jesus] said to them, 'Take care, and be on your guard against all covetousness, for one's life does not consist in the abundance of his possessions.'" (Luke 12:15 ESV)
What's the highest priority?
Okay, but which is most important? With my phone, the power cord plug-in is by far the most important thing to guard. What about in my life?
Here's Jesus' answer:
"'Love the Lord your God with all your heart and with all your soul and with all your mind.' This is the first and greatest commandment." (Matthew 22:37-38 NIV)
If I am careful to guard God's position as the first priority in my life, the rest will fall into place so much better.
God will help me
Easier said than done! Thankfully, God will help me guard my life according to His ways. I can trust Him to do so.
"I will lift up my eyes to the mountains; from where shall my help come?
My help comes from the Lord, who made heaven and earth.
…
The Lord will guard your going out and your coming in
From this time forth and forever." (Psalm 121:1-2,8 NASB)