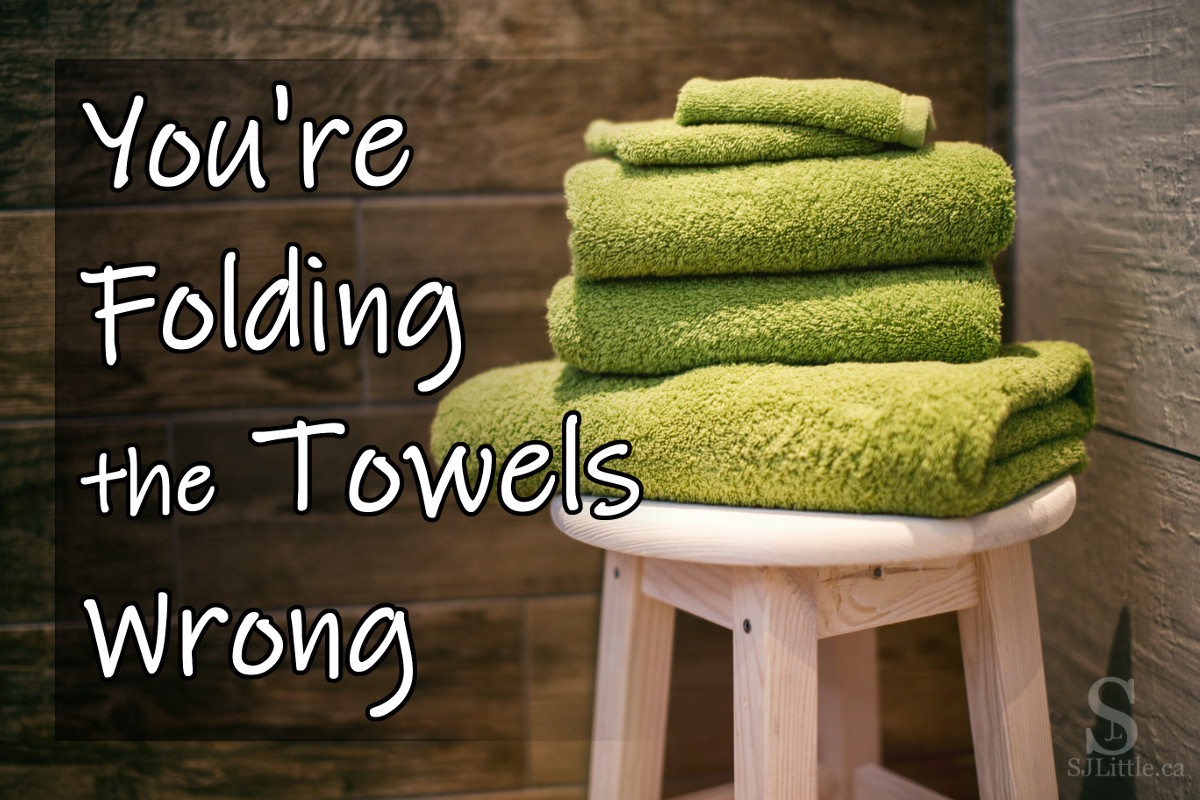 Have you ever heard the age-old debate about the "proper" way to fold towels and sheets?
Should the towels be folded in half and then in thirds? Or perhaps in thirds and then in quarters? No, the best way might be simply in half and then in half again.
It seems every established housewife or business that uses towels claims a different way to be the best and only correct way to fold towels.
During my Bible school days, I attended three different schools all run by the same parent organization. I was surprised just how different they did things at each school. Those differences included how they folded the towels. In fact, in one of the schools, towels had to be folded differently based on whether they were guest towels or kitchen towels.
When I got married and moved into a new place, it took a few weeks to figure out a way of folding towels to enable them to fit into our narrow cupboard while allowing the cupboard door to close.
"So, what's the point?" you may be asking.
The lesson hidden in the midst of the many towel folding techniques is simple, yet ever so complex.
Ecclesiastes 3:1 NIV tells me:
"There is a time for everything, and a season for every activity under the heavens…"
A time for what, you may ask? The following verses mention many examples, including:
"A time to be born and a time to die…"
"A time to plant and a time to uproot…"
"A time to weep and a time to laugh…"
"A time to search and a time to give up…"
"A time to keep and a time to throw away…"
"A time to tear and a time to mend…"
"A time to be silent and a time to speak…"
Throughout the Bible I see examples of this. There was a time for Israel and his sons to plant themselves in Egypt, and a time for them to uproot themselves and leave. The Apostle Paul sometimes stayed put in the face of persecution, but at other times fled. Sometimes Jesus was silent, while at other times He spoke with great boldness.
In Luke 10:4, Jesus sent out His disciples with instructions to not bring a purse or bag, but later, in Luke 22:35-36, we read:
"Then Jesus asked them, 'When I sent you without purse, bag or sandals, did you lack anything?'
'Nothing,' they answered.
He said to them, 'But now if you have a purse, take it, and also a bag; and if you don't have a sword, sell your cloak and buy one.'" (NIV)
Why do I point out these things? Because it is valuable for me to be reminded from time to time that, while the core doctrines and what is right or wrong do not change, the best actions to take or the best way to respond may vary from situation to situation.
I often have seen this clearly in my preschool teaching. Some children learn well by sitting quietly, but for others, having movement incorporated helps them pay attention for longer. Some children respond well with a gentle word of correction, while others need firm consequences clearly laid out.
So how do I know what to do in each situation? I don't. However, previous experience, knowledge of the situation, being well grounded in the Bible, and walking in tune with Jesus all help.
Indeed, may my prayer be like that of David in Psalm 25:4-5,
"Show me Your ways, O Lord;
Teach me Your paths.
Lead me in Your truth and teach me,
For You are the God of my salvation;
On You I wait all the day." (NKJV)
So how do you fold your towels? I currently fold bath towels in thirds and then in quarters because it's the best way I've found to make them fit on my narrow shelf.