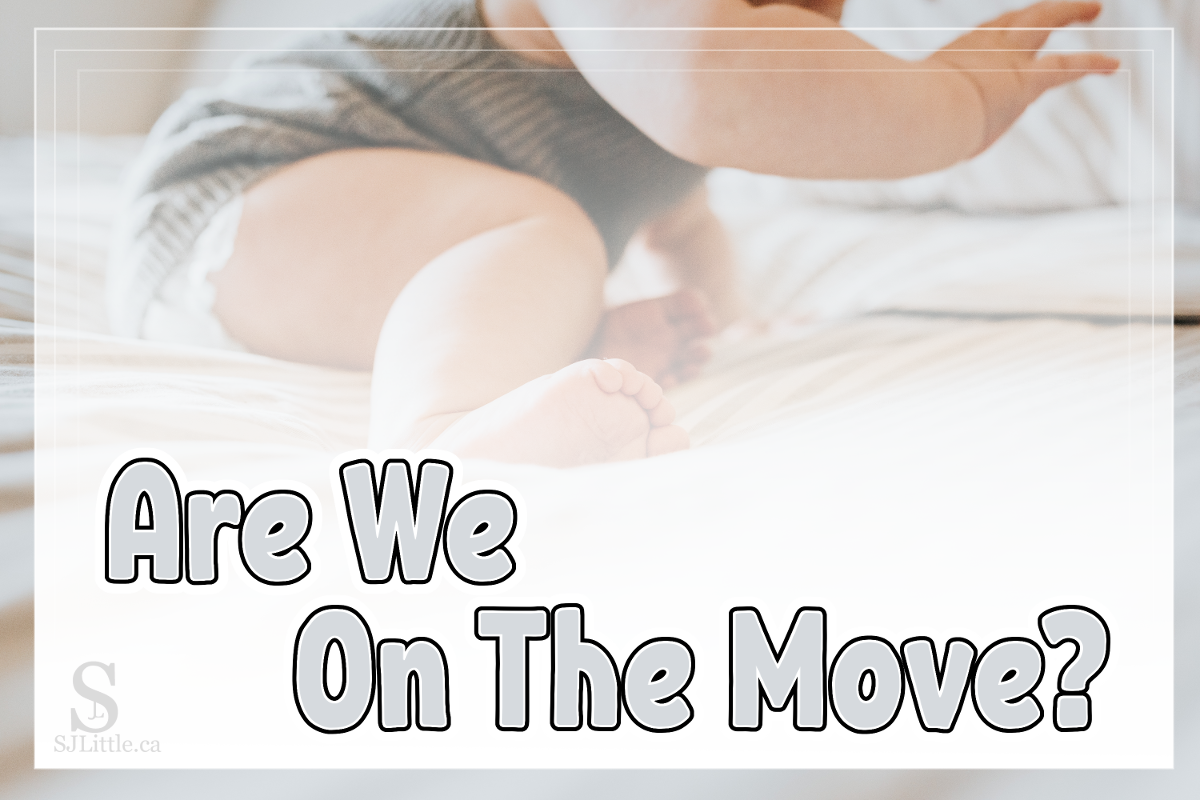 Excitedly, I picked up my phone and switched to the camera.
I did my best to hold it steady as I captured the moment. My baby was moving!
For quite some time she has been able to pivot on her tummy, but now she's figured out how to move on her tummy.
I set a toy on the far side of the room. Then recorded her movement as she made her way to it.
Is this what you call crawling?
Excited by this new development, I selected a short clip of the recording and sent it to my relatives, asking, "Does this count as crawling?"
My relatives were very kind in their responses. They were encouraging, but honest.
"Definitely on the move!"
"She's scooting for sure!"
"I call that belly crawling… Definitely mobile!!"
"Beginning of crawling, soon to be up on her knees!"
Their comments mentioned that to reach the milestone called crawling it was necessary to get her belly off the ground. So far my baby, although moving, was still dragging her belly.
As a first-time mom I'm so excited about her movement and excited for her to reach the milestone of crawling. She is definitely moving now but not technically crawling yet.
This isn't the first time I've wondered if her actions could be considered crawling. Sometime back she was able, on particular surfaces, to inch herself around on her tummy using her knees.
Now she can move on just about any surface. She no longer requires having bare feet to get enough grip. She can do it in a sleeper with her feet covered.
She's moving so well that she chased the cat around the kitchen at lunch time a few days ago. Now she can play with a ball because when it rolls away she can go get it.
So is this crawling? I think the term belly crawling is correct.
In order to crawl she will have to pass several more stages. Thus far she has hardly attempted to get onto her knees. When she realises she needs to get on her knees, then she'll have to learn to coordinate her knee movements with her arm movements and to keep her belly off the ground. Then, at last, she will be crawling.
Will she have arrived then?
Once she's crawling she'll learn to walk.
Learning to walk starts with learning to stand with assistance and walk with assistance, both of which she thoroughly enjoys already.
Then she will need to learn to pull herself up on objects, and then to stand by herself. Once she has those figured out, she will need to learn to take steps and walk on her own. Eventually she'll reach the milestone of walking.
But then there'll be more to learn.
When she's walking she will need to learn to run and jump. She'll learn how to skip. Perhaps one day she will learn to walk on a balance beam or slackline, or perhaps even a tightrope.
Well, I suppose not many of us learn to use tightropes so she likely won't learn that one, but you get the idea.
I think Christians are often similar.
For Christians, there are many stages of spiritual development.
My Christian life started at salvation but then I must learn to live as Jesus did. This is a journey through many stages and phases.
Along the way, I may feel like I've arrived at a milestone, and thus have attained a state of completion.
I may think there is nothing more to learn, no deeper level to reach.
This is dangerous thinking.
When I think I've arrived I may stay where I'm at for the rest of my life.
If my baby thought she'd arrived and never learned to crawl on her hands and knees, or to walk, or to run or jump or skip, I would know she's missed out on a lot of life.
The same is true in my Christian life. If I think I've arrived and don't keep striving to grow and seek God more, I will miss out on a great deal of what God desires to give me.
Even the Apostle Paul realised this. He wrote:
"Not that I have already obtained all this, or have already arrived at my goal, but I press on to take hold of that for which Christ Jesus took hold of me. Brothers and sisters, I do not consider myself yet to have taken hold of it. But one thing I do: Forgetting what is behind and straining toward what is ahead, I press on toward the goal to win the prize for which God has called me heavenward in Christ Jesus.
Philippians 3:12-14 (NIV)
If the Apostle Paul says this about himself, then surely I also have more to learn and grow.
May I keep seeking to know God more and not stall in my Christian walk.
So where does that leave my baby? For the time being, she feels like she has arrived.
She's enjoying her new found freedom to move and go where she wants. So far she hasn't realised there is more.
Soon she will be trying to get on her knees and, before I know it, she'll be crawling on her hands and knees all over the place. Then in the blink of an eye she'll be learning to walk.
As for me, I don't know what next step God has in store for me, but I will let the realisation that there is room to grow urge me onward in my pursuit of Jesus.