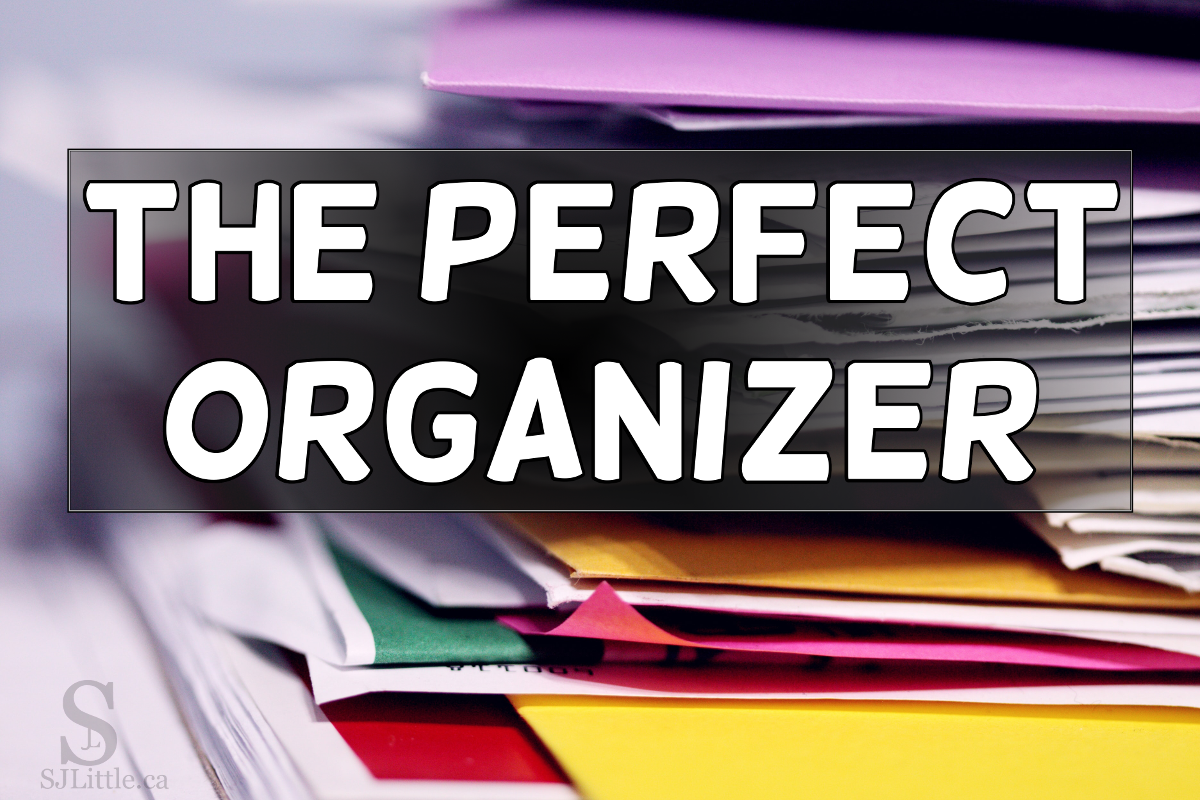 Clutter. It's hard to keep on top of it.
The secret to a perfectly clean house is something I have yet to discover.
Every so often I get inspired to organize. I choose an area and brainstorm. Eventually the brainstorming changes to action… most of the time.
My most recent target was my desk, but let me back up and tell you the story from the beginning. It went something like this:
From my vantage point on the floor, where I sat steadying my baby's attempt to stand, I scowled at my desk.
There it was, in plain sight in the living room with the eye sore stack of papers on it. There must be something I could do to make it look better.
Should I file away the papers? No. I needed easy access to them for my current projects.
Perhaps I should move the desk? Nope. Even if I could manage to shuffle things around in another area to make a new home for my desk, it wouldn't help. The living room is where most of my baby's toys live, and I have to be able to supervise her. If the desk wasn't easily accessible while keeping an eye on my baby, I would end up with my papers all over the couch rather than the desk.
I caught my baby as she tottered forward. Settling her on the floor with a teddy bear, I racked my brain for a solution.
If I couldn't put away the papers and I couldn't move the desk, then I must need some sort of improved organization.
I smiled as the answer came to me. I would buy an organizer – perhaps a set of letter trays. Then I could sort the papers into tidy categorized piles.
Later, while stuck in a chair holding a sleeping baby, I pulled out my phone. Time to do some research.
I scrolled through plastic, wire mesh, and wooden letter trays. Some opened on the long edge while most opened on the short edge. I puzzled over which would look best in the space, while not ignoring the price tags.
I noticed that some of the trays came built as sets of three or five. Others were more flexible with the ability to have as many or as few in a stack as I desired.
Black would be the best colour in my space, I decided, and since my desk was rather crowded, it would be best if my computer monitor could sit on top of the trays.
By the time my husband came home, I'd scoured the internet and narrowed it down to eight options.
Eagerly I ran the options past him.
He listened patiently, asking relevant questions. I skimmed through the reviews on two of the options. Perhaps we would order one of them that very evening.
Then my husband asked a question that made me stop in my tracks.
"What is the main purpose for buying this? What are you trying to accomplish?"
"Well," I rambled, "I need to organize the papers, and the space under the monitor is poorly utilized at the moment so I want to make use of that. Because our house is small, we need to make use of all the small spaces."
Although those reasons were on my mind, my answer didn't feel quite right. I was missing the core of the matter.
I paused to think, then answered slowly. "I suppose the biggest thing I am trying to do is make the living room look more presentable. The desk is cluttered with papers, but I need those papers easily accessible. Therefore, I need a better place to put them."
My husband suggested that perhaps a monitor stand with shelves would work.
This seemed like a valid idea, so I skimmed a list of monitor stands, but none of them seemed just right. It was getting to be bedtime and my steam was gone.
I recorded the potential options, then put the idea aside. I had other things to focus on for the time being, such as finishing my current project.
A week or two later, the itch to fix that unsightly pile of toppling papers on my desk returned, yet I still hadn't figured out which organizer would fit the bill.
Letter trays or open shelves, I reasoned, would merely make the mess look more like an organized mess. Rather than one pile of papers, there would be multi-layer piles.
A unit with opaque drawers for the piles to disappear into. That was what I needed.
Again I researched.
Finally I stumbled upon one I liked. It wasn't perfect, but it would do the job. It was plastic from a familiar brand. The three drawers were a colour that would look good in my living room. They were cost-effective as well.
There was a catch… They were only available in sets of four units, each containing three drawers.
Uncertain what my husband would think of buying so many organizers, I began to brainstorm how to tell him about them. Where would we put all of them? Could we put them all to use? Why these ones?
When my husband finished work, I told him my plan. He was supportive of the idea.
We did a price check at a different store, then pulled out the measuring tape just to make sure it was a good size before we hit "buy".
It was a bit bigger than I'd originally wanted, but it would do. Soon my papers would have their own homes and our living room would look so much better.
Then, measuring tape still in hand, I glanced down at my desk. It was a desk with one drawer, two cupboards, and two slots. Those two slots very much resembled the sort of organizer I had been searching for.
Both slots already had items in them, but they were poorly utilized. One of them only contained a few rarely glanced at books.
A quick shuffle would be sufficient to move those books to the bookshelf. Then I could use folders to organize my papers and tuck them into the slot.
No, it wasn't drawers, but it was built-in rather than taking desktop space, and I already owned it.
So I didn't need to buy an organizer after all. I already had one.
Shaking my head at the amount of work I'd put into trying to find something just like that slot – the slot I already had – I closed the tabs of the online stores and set my phone aside. I would make use of what I already had rather than trying to buy something new to fill that need.
All that time could have been used for something better and more productive. Something like writing my next blog post.
At least there was one thing of value from all that planning and researching. The experience had given me a new allegory to share.
You see, just as I wasted much time and effort trying to get an organizing tool when I already had one, sometimes I go to great lengths in my life trying to obtain something God has already made accessible to me.
A specific example of this could be peace. Jesus has told us:
"Peace I leave with you; My peace I give you. I do not give to you as the world gives. Do not let your hearts be troubled and do not be afraid." John 14:27 NIV
"I have told you these things, so that in Me you may have peace. In this world you will have trouble. But take heart! I have overcome the world." John 16:33 NIV
Yet sometimes, when I'm not feeling peaceful, I find myself searching for peace everywhere except in leaning closer to Jesus.
The same holds true of many other things such as rest, joy, love, acceptance, purpose, and value.
All these are things I yearn for at a very deep level. The world suggests various ways to obtain them, but only in Jesus can these needs truly be satisfied at their deepest level.
I may not realize what it is I'm actually seeking.
Sometimes I need my husband to ask that question:
"What is the main purpose for doing this? What are you trying to accomplish?"
Why did I buy that sweater that I don't really like? Because I was trying to please my friend. Why was I trying to please my friend? Because I long for a deep sense of acceptance.
That longing can only truly be satisfied at its deepest level when I press into Jesus and embrace the acceptance He has already given me.
Similarly, the peace, love, happiness, and purpose the world has to offer doesn't even come close to how Jesus is able to, and wants to, satisfy these longings of mine at the deepest level.
There is a reason the Bible talks about the peace God offers as passing all understanding (Phil. 4:6-7).
There simply isn't any other peace so rich and full and deep to be found. Only Jesus offers that type of peace.
So where have I been spending my time, money, and energy lately?
When I ask the question: "What is the main purpose for doing this? What are you trying to accomplish?" Do I find that I am seeking to satisfy one of my deepest longings with something temporal?
Only God can truly satisfy my deepest longings in a rich and lasting way.
He has already offered this satisfaction to me. Why should I waste my time, money, and energy on what doesn't satisfy?
May I pause to lean into Jesus today that He may satisfy my deepest longings.